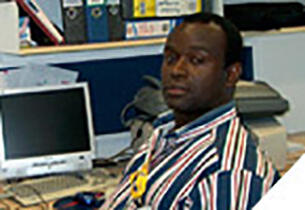 A Liverpool School of Tropical Medicine scientist has received a prestigious award from the Royal Society this week in recognition of the advances his research has made into drug resistance and new treatments for malaria.
Dr Alexis Nzila, an honorary lecturer at the School, who has worked closely with Deputy Director, Professor Steve Ward in the area of tropical pharmacology for over ten years, has been presented with the Royal Society Pfizer Award for his research into malaria folate biochemistry and its parallels in cancer.
Both cancer cells and the malaria parasite multiply readily and rely upon the availability of vitamins called folates in order to grow. By comparing the role of these vitamins in cancer cells to their function in malaria, Dr Nzila was able to understand their function more clearly, particularly their role in causing resistance to a popular malaria drug, Fansidar. This is an antifolate treatment used to inhibit the production of folate molecules and thereby preventing the malaria parasite from multiplying. The parasite, however, can quickly develop resistance to the drug, making it difficult to treat the disease.
Dr Nzila who has worked with scientists in the School and in the Department of Pharmacology in the University said: "Working in Kenya, where 26,000 children die of malaria each year, we found that resistance to Fansidar was a result of the parasite's ability to change amino acids in the protein enzymes that the drug targets. By monitoring changes in the genes for these proteins, we found we could predict whether a parasite would be sensitive or resistant to Fansidar."
Dr Nzila then found a new way of treating the disease by using a non-toxic compound called probenecid that can be used in combination with Fansidar to reverse the parasite's ability to resist drug treatment. This has already been used successfully to treat children in Nigeria .
Professor Ward, paid tribute to Dr Nzila for his groundbreaking research into malaria folate biochemistry, some of which was carried out in labs in the School.
He said: "This award is highly prestigious and thoroughly deserved and recognises the research activities of an African scientist who has made groundbreaking advances in parasite chemotherapy while working for most of his career in the field in Africa rather than seeking greater financial rewards elsewhere.
"His findings are very insightful and should contribute significantly to the battle to beat drug resistant malaria. Alexis shares the Schools ambition to use high quality basic scientific information on parasite biochemistry and resistance as the pathway to newer safe, effective and affordable drugs for Africa. 
-ends-
For further information, please contact:
Alan Hughes, Communications Manager
Office: +44 (0)151 705 3199
Mobile : +44 (0)7759 243969