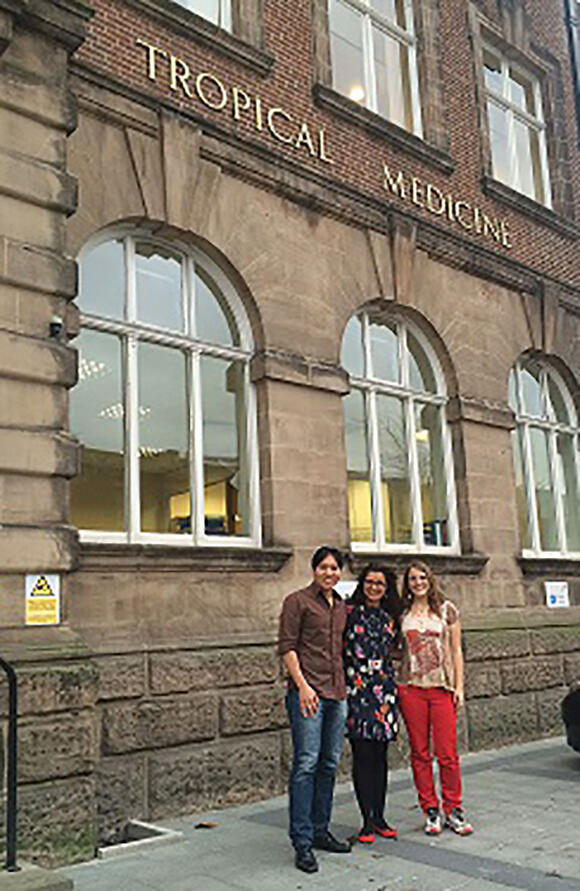 LSTM's Seminar Series Continued this week with a talk by Dr Helder Nakaya, Assistant Professor at the University of São Paulo (Brazil) and Adjunct Professor at Emory University School of Medicine (USA). His presentation, entitled: Systems Vaccinology: Its promise and challenge for vaccine design, was introduced by LSTM's Dr Daniela Ferreira.
Dr Nakaya began by introducing the field of systems vaccinology, which has recently emerged as an interdisciplinary field that combines systems-wide measurements, networks and predictive modelling in the context of vaccinology. He explained that given the technological advancements over recent decades it is now possible to access and integrate information about all of the components within a biological system, such as genes, proteins and cells, and that this can be used to compute and predict that system's behaviour. When this is applied to vaccinology, systems biology approaches can help to understand the mechanisms by which vaccines stimulate protective immunity, and also identify predictors of vaccine-induced immunity.
He said that the work began by looking at the vaccine for yellow fever in 2009, using a systems biology approach to identify the genes affected by the vaccine promoting immunity within the human immune system. However, he was keen to point out that this was testing the system on an established vaccine with proven efficacy, with the vaccine being over 90% effective and one dose providing immunity for up to 40 years. Dr Nakaya said it was understood that it would not be as straight forward when looking something like the flu vaccine, which changes every year. He and his colleagues were not sure if the approach would even work for such a seasonal vaccine. However, looking at both the Trivalent Inactivated Influenza Vaccine, or TIV, which is a traditional injected vaccine, and the Live Attenuated Influenza Vaccine, or LAIV, which is a nasal spray vaccine, the team were able to discover certain signatures within cells that could predict the immunogenicity of the vaccines.
After pointing out certain questions which he and colleagues are in the process of trying to answer, such as are these signatures "strain specific"? and how these signatures will perform in the elderly or vulnerable populations? he went on to look at five different trials, the results of which have been published by Dr Nakaya, his colleagues and collaborators.
He concluded by briefly touching on how system vaccinology may be used to help develop vaccines for different infectious diseases such as dengue and HIV. He stressed that the value of the approach is not just its ability to look at system-wide measurements and predictive modelling, but also the fact that it enables the generation of hypotheses, which could hold the key for future vaccine development.