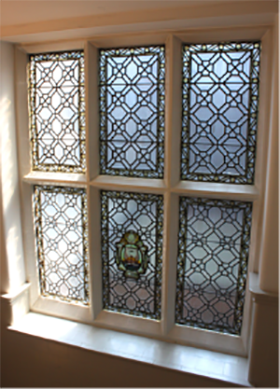 The stained glass window in LSTM's old school building featuring the original emblem is undergoing much needed restoration work on the eve of LSTM's 115th anniversary in November.
The window was installed in 1915 when LSTM moved to its current location at Pembroke Place in Liverpool.
The emblem featured in the window, was designed by James Herbert MacNair(1868-1955), one of the celebrated "Glasgow Four" artists.  The design was adapted several years later to create a logo which was used up until 2008, when LSTM launched its new logo.
The exact meaning of the design remains unknown, but MacNair was known for producing works where every element had meaning or symbolism.
Brian Gilmore Maegraith, a former Dean of LSTM, took a keen interest in discovering the meaning of the emblem.
He theorised that the ship in the picture may be an Egyptian vessel and that the eye on the sail is the eye of the Egyptian falcon god Horus, who was connected with healing and protection from evil and was often represented by a single eye. The voyage of the ship may symbolise LSTM's mission, which is concerned with health the world over and knows no bounds.
After 98 years the window showed signs of wear and tear requiring resetting and releading.
Experts at NKA Stained Glass, who are working to restore the window said: "Due to years of exposure to weather and the movement of stone and brickwork the historic  window had bowed and developed quite a lot of damage to the lead. The soldered joints have cracked thus causing the stained glass to bow. The centre piece of the landing window that incorporates LSTM's emblem requires the most restoration as it has a broken piece of stained glass."
The restoration work is expected to be completed in a few weeks' time, when the window will be re-fitted.