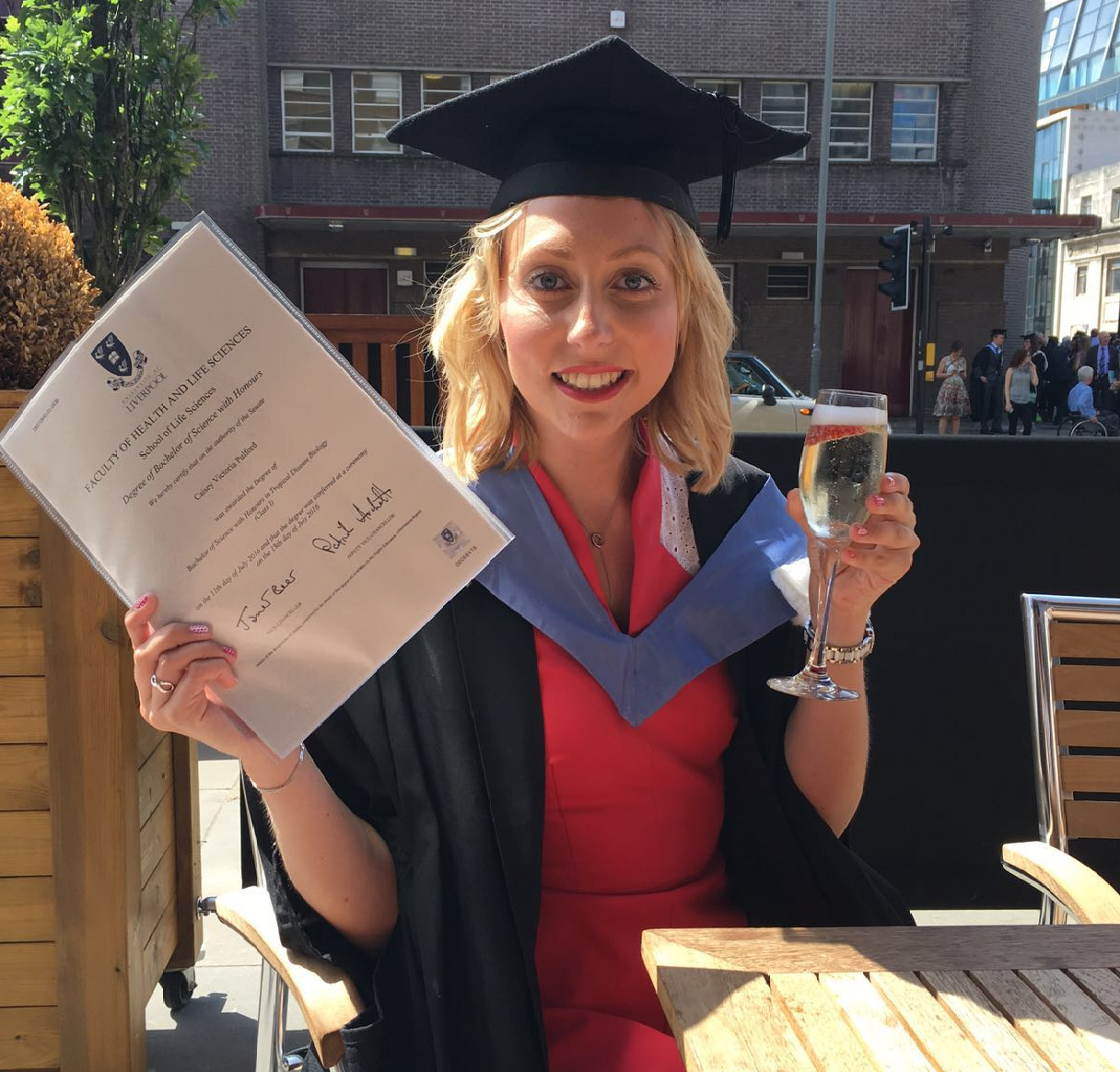 This summer saw nine students graduate from the University of Liverpool with BSc degrees in Tropical Disease Biology. This undergraduate course is directly overseen by LSTM with many of the students opting on to study at MSc/PhD levels.
This year's top student Caisey Pulford was awarded a prize in recognition of her achievements and has written a short article on her experiences within LSTM and her project which involved an extensive period of research in the LSTM venom unit.
Caisey said: "Throughout the past three years, I have had the privilege to be part of a course that has not only offered an outstanding student experience, but has also proven to be insightful, fascinating and, although challenging, extremely fun!
I started my undergraduate studies in Biological and Medical Sciences and quickly became fascinated with the issues surrounding global health, particularly in lower income, resource limited settings. Following this passion I made the decision to transfer onto the Tropical Disease Biology Course. I am extremely grateful for the course structure at the University of Liverpool for making this transition feasible! In years one and two, we were given the opportunity to study a wide variety of taught and practical based modules alongside other students in the Department for Life Sciences. A particular highlight of these years was the second year Tropical Disease Biology practical class which was tailored to provide a fascinating taster and foundation for third year. In addition to providing us with a solid scientific platform in which to build from, these early years encouraged us to understand the importance of taking an integrated approach to scientific understanding, an extremely desirable skill to have mastered!
In third year, lectures were based at the Liverpool School of Topical Medicine (LSTM). The modules allowed us to explore more detailed and specific aspects of Health and Disease in the Tropics. Here, the emphasis was broadly on protozoan parasites, helminth infections and vector biology. The course content was extremely interesting, engaging and was delivered to an exceptionally high standard.
A substantial component of third year was spent conducting a 12 week research project. My project involved working collaboratively with the Liverpool School of Tropical Medicine and the Institute of Integrative Biology at the University of Liverpool to conduct an in depth analysis of Salmonella presence and spread in a large collection of venomous snakes housed at the Alistair Reid Venom Unit at LSTM. Being given the opportunity to work alongside world-leading researchers at such an early stage in my career was a truly incredible experience and one which I thoroughly enjoyed! 
Now that I have completed my degree, I am excited to commence a PhD at the University of Liverpool where I will be focusing on an invasive, multi-drug resistant strain of Salmonella Typhimurium responsible for causing high levels of mortality in sub-Saharan Africa. It is my ambition to one day work as part of an international health organisation such as WHO to combat disease globally.
Ultimately I feel that my experiences studying Tropical Disease Biology have equipped me with experience and skills which have both inspired my career choices, nurtured my future potential and will prove essential in making my career a reality. I would like to take this opportunity to express my thanks to all those involved in organising and participating in the Tropical Disease Biology course. The level of support received by myself and fellow classmates has been outstanding."