Álvaro Acosta Serrano obtained a Doctor in Science degree in Molecular Parasitology from the Federal University of São Paulo. He was a Post-doctoral Fellow at Johns Hopkins School of Medicine, and then a Wellcome Trust Research Fellow at the University of Dundee and University of Glasgow. In 2008 he joined the Liverpool School of Tropical Medicine, where he is currently Reader in the Departments of Parasitology and Vector Biology.
---
Research
Research in the Acosta-Serrano lab lab focuses on fundamental aspects of the biology of kinetoplastid parasites and their vectors, and on developing molecular tools to control and prevent parasite transmission in disease-endemic areas.
Main research programmes
1) Molecular interactions between African trypanosomes and tsetse flies. 
African trypanosomes are responsible for sleeping sickness and animal trypanosomiasis in Sub-Saharan Africa, which are included within the group of neglected tropical diseases (NTDs). These parasites are transmitted by different species of Glossina (also known as tsetse flies; video and Fig. 1). Inside the tsetse, trypanosomes undergo a complex cycle, including the colonization of different tsetse organs (Fig. 2). We use molecular genetics, biochemistry and microscopy methodologies to understand how trypanosomes are able to establish an infection in (and are transmitted by) the tsetse. We also investigate the role of glycans in trypanosome development in the tsetse. This programme is possible thanks to the large colony (~10000 flies) of tsetse flies at LSTM, which also provides service to other groups within the UK and abroad.
Video fom "Parasites" (4-part documentary series); Filmed at LSTM, broadcasted by EBS (Educational Broadcasting System) South Korea. Producer: Mr. Sung-Woong Park. Broadcast on July 2013. Reproduced with kind permission 
2) Control and prevention of Old World cutaneous leishmaniasis.
Old World cutaneous leishmaniasis (CL) is one of the most prevalent insectborne NTDs in the Middle East, including Saudi Arabia.  CL is generally not fatal, but clinical symptoms can lead to disfiguring scars that result in social stigmatization. Due to the collapse of the Syrian health system and migrant situation, CL currently affects hundreds of thousands of people living in refugee camps or trapped in conflict zones (Fig. 3) (Du R. et al. 2016 PLoS Neg Trop Dis 10(5):e0004545 and Al-Salem W. et al. 2016).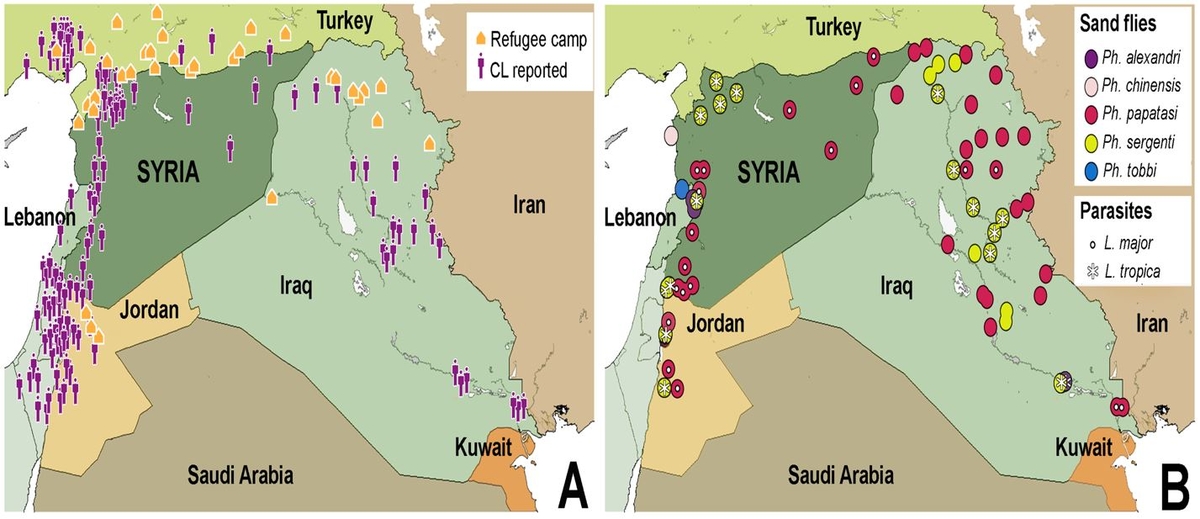 The disease is exclusively transmitted by the bite of a female sand fly (read our commentary article on Mondragon-Shem K. and Acosta-Serrano A. (2016) Trends in Parasitology 32:432-5). In collaboration with the Saudi Arabian Ministry of Health, we have developed a programme aiming to prevent and control CL in this country. The programme focuses, among other aspects, in developing a rapid diagnostic test based on the patient's anti-alpha-Gal response (Al-Salem W. et al 2014 Parasitology 141:1898-903), and in identifying markers for disease exposure (Mondragon Shem, K et al 2015 PLoS Negl Trop Dis 9(2):e0003449) (Fig. 4). We hope that these tools can soon be applied in other CL-endemic countries, including refugee settings.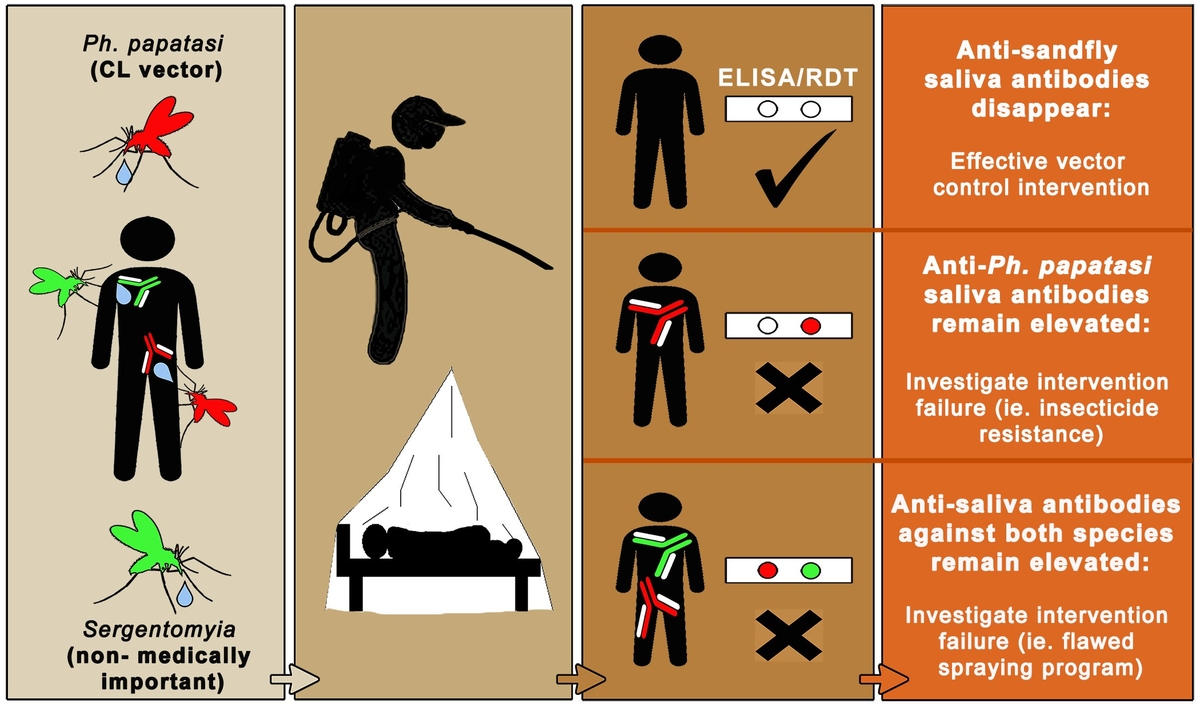 Current PhD Students
Yasser Alraey
Victoria Austin
Aitor Casas Sánchez
Karina Mondragon-Shem
Current Postdocs
Dr. Lee Haines
Dr. Krishanthi Subramaniam
Dr. Clair Rose
Current Technicians
Daniel Southern
Keith Steen
---
Teaching
At LSTM
I teach in several courses of parasitology and vector biology for DTMH, MSc Program in Vector Biology and Parasitology, & BSc in Tropical Disease Biology (UoL).
MSc module coordinator for TROP775 'Key Aspects in Molecular and Cellular Biology of Tropical Diseases and Vectors'.
Recent External teaching
"Host-parasite interactions" MSc module, London School Trop. Med. Hyg.
"Biology of Parasitism" course, MBL, Woods Hole, USA.
---
Professional Memberships
Council Member, British Society for Parasitology
Glycopar ITN/FP7 – European network for parasite glycobiology (2014-2018)
Liverpool University Centre for Glycobiology
British Society for Parasitology
Biochemical Society
current Associate Editor, PLOS Neglected Tropical Diseases.
Grant reviewer and board activities
Ad hoc reviewer for The Wellcome Trust, Leverhulme Foundation, MRC, BBSRC, NERC.
Invited external panel member for "Excellent Initiatives-Institutional Strategy" funds for University of Bremen, Germany (2012).
Current Grants
LSTM Research Development Fund. Co-PI with M Coleman
National Philanthropic Trust-UK. PI with two partners
Wellcome Trust Equipm Grant. Co-PI with 5 LSTM partners
European Commission FP7 GlycoPar. Co-PI with 12 partners
Public Engagement/Media 
FOR THE LEISHMANIASIS RESEARCH PROGRAMME
The following list demonstrates the impact our CL research has made in terms of recent news articles, press releases and video interviews.   
June 29, 2016 by Vicky Hallett for National Public Radio.  'The Aleppo Evil' Is Making A Comeback. 
June 20, 2016 by Bryson Masse, freelance science journalist.  A terrible disease is spreading among Syrian Refugees but cutaneous leishmaniasis is not a threat to Europe.  June 7, 2016 by Rua'a Alameri for Al Arabiya English.  As Syrian war rages on, gruesome skin-eating disease to keep spreading    
June 3 2016 by LSTM.  Sandflies not corpses: the truth about the "flesh-eating disease" in the Middle East     
May 30 2016 by Alexandra Sims for The Independent.  Cutaneous leishmaniasis: Disfiguring tropical disease sweeps across Middle East 
April 17 2016 The International Society for Neglected Tropical Diseases (ISNTD) interview with Dr. Alvaro Acosta-Serrano.   
FOR THE TSETSE RESEARCH PROGRAMME
Our lab have been filmed or interviewed for the following TV programs and documentaries:
"Operation Ouch!" cBBC. Broadcasted on September 2012.
"Parasites". Korean public TV Broadcaster (2013).
Bugs Bites and Parasites "Tropical Medicine at LSTM and Liverpool Royal Hospital". Discovery Channel (2013)
"The transgenic cow resistant to trypanosomiasis". Documentary (2013)