Background
Joseph Turner graduated from Newcastle University in 1998 with a degree in Medical Microbiology.  After deciding to specialise in parasitology, he attained an MSc in Molecular Parasitology and Vector Biology from Manchester University in 1999 before gaining a PhD in Parasite Immunology from Nottingham University in 2004. During his post-graduate studies, he defined human adaptive immune responses to gut nematodes and immunological interplay with filarial nematodes in Cameroon and subsequently obtained funding from The Royal Society to examine the impact of gut worm 'poly-parasitism' on human innate immune responses in Pemba Island. From 2003-2007 he was a member of Professor Mark Taylor's research group at LSTM that demonstrated drug targeting of Wolbachia as a curative treatment for onchocerciasis and lymphatic filariasis and identified the molecular basis for Wolbachia-mediated inflammation. In 2007 he moved to The Centre for Immunology and Infection at York University and gained a Wellcome Trust Departmental Fellowship in 2009 to investigate the host-parasite interactions of experimental schistosome transmission.  He was appointed Lecturer in Parasitology within the Molecular and Biochemical Parasitology Group in 2010 and Senior Lecturer in 2014.
Teaching
Module Organiser
LIFE236 Key Skills in Tropical Medicine (BSc Hons)  
Lecturer
LIFE361 Human Parasitology (BSc Hons)
TROP936 Research Methods in Parasitology and Vector Biology (MSc)
TROP939 Human Parasitology and Vector Biology (MSc)
TROP739 Immunology of Parasitic Infections (MSc)
Diploma in Tropical Medicine and Hygiene
Diploma in Tropical Nursing  
Project Supervisor
LIFE363 (BSc Hons) 
TROP942 (MSc)
Previous project titles
2011-12 What is the optimum treatment strategy for strongyloidiasis?

2011-12 Testing the role of Wolbachia in Brugia malayi lymphangiogenesis

2011-12 Macrophage activation in experimental Brugia malayi infection

2012-13 Assessing in vivo models to test anti-filarial drugs

2012-13 Can immune cells be used to grow filarial worms in the lab?

2012-13 An endothelial cell culture system to screen antiangiogenic drugs
Research Interests
Immunology and pathology of helminth Neglected Tropical Diseases (NTDs)
My lab researches the spectrum of immunological responses that dictate major outcomes of human parasitism by tissue-dwelling helminth NTDs: limited, short term parasitism, chronic parasitism without overt disease and parasitism invoking severe inflammatory morbidity.
Understanding the cellular and molecular interface between the human immune system and helminth parasites is key to the rational design of novel drugs, immunotherapies and vaccines enabling more effective and safer treatments for both infection and inflammation-related morbidity.
My group are applying research models of helminth NTDs considered priority global health problems (namely, filariasis and schistosomiasis), as well as in depth immune-epidemiological surveys of parasitized human populations, to determine cellular and molecular mechanisms of host immunity, wound healing or immunopathology at tissue sites of parasitological assault.
(A) Filarial inflammation (bottom panel) induces remodelling of dermal blood (red) and lymphatic (green) vasculatures in vivo. Our group are presently identifying how vascular remodelling events occur during filariasis and whether targeting them with experimental therapies can improve morbidity.
(B) intra-vascular schistosome eggs (arrow, bottom panel) induce vascular remodelling (red) and loss of follicle cellularity (green) in gut associated lymphoid tissue. Such remodelling events are beneficial to schistosome transmission.
(C) in vitro cell cultures of lymphoid tissue stroma in the presence of live schistosome eggs (blue, bottom panel). Schistosome eggs and their secretions are growth inhibitory, which may explain the ultimate loss in lymphoid tissue cellularity during infection. 
Translational Research in helminth NTDs
An additional focus of the lab is to translate basic discoveries of the molecular and cellular pathways dictating immunity, repair or pathology induced by tissue helminths into new and improved therapies for these NTDs.
As part of the A-WOL consortium co-ordinated by Professor Mark Taylor, we are supporting drug discovery and development programmes for novel curative drugs against filariasis. We have expertise in taking lead therapies into clinical trials to test curative efficacy against the filarial NTDs, lymphatic filariasis and onchocerciasis.
For both anti-infective and anti-morbidity interventions, my lab is developing new and improved pre-clinical models to test therapeutics and apply pharmacokinetic and pharmacodynamic (PK/PD) studies (in collaboration with Professor Stephen Ward) of novel anti-filarial and anthelmintic drugs.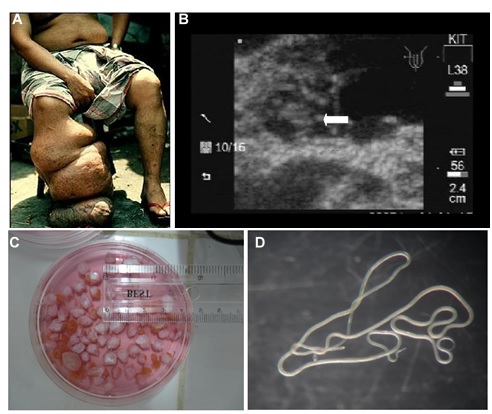 (A) Lymphatic filariasis causes elephantiasis and hydrocoele, the number one global cause of secondary lymphoedema (LE). My lab is working on new therapies to reduce LE morbidity
(B) Filarial worm nest (arrow) in a hydrocoele patient, visualised by ultrasonography. The technique has been applied to determine the efficacy of new drugs against LF in clinical trials.
(C) Onchocerca ochengi nodules containing female and male parasites
(D) motile male Onchocerca male worms (tête-à-tête). My lab is developing new pre-clinical models of onchocerciasis to evaluate the efficacy of novel therapies. 
Current / recent research projects and funding 
2012-13 BBSRC Integrative Mammalian Biology MRes Studentship: Development of bio-imaging to visualise and quantify lymph flow.  £20,000  
2013 Bill and Melinda Gates Foundation: Anti-Wolbachia drug development programme. Prof Taylor, (Dr Joe Turner; Co-applicant). $4,210,049  
2013 BMGF Grand Challenges Explorations: A small animal model of onchocerciasis. $100,000 
2014 MRC New Investigator Research Grant: Is targeting vascular remodelling by filarial parasites a viable anti-morbidity solution? £594,685  
2014 Department for International Development: COUNTDOWN NTD implementation research. (Dr Joe Turner; Theme Leader). £7,000,000  
2014 Wellcome Trust Multi-User equipment grant: A flow cytometry/sorting and cell imaging platform for the genotypic and phenotypic analysis of Hazard Group 3 pathogens. Prof. Biagini, (Dr Joe Turner co-applicant) £594,698  
2014 BMGF Grand Challenges Explorations Phase II: Application of murine models of filariasis to accelerate pre-clinical evaluation of macrofilaricides against onchocerciasis $1,005,644  
2014 LSTM Equipment Grant: PhotoDynamic Eye (PDE) portable pre-clinical / clinical optical imager. £3412 (10%)  
2015 National Centre for 3Rs PhD Studentship £90,000  
Current and Past PhD Students
Ms Amber Fanthome: Development of bio-imaging to visualise and quantify lymph flow. BBSRC MRes Studentship, Integrative Mammalian Biology 2012-2013
Ms Amy Marriott: Replacing, reducing and refining the use of animals in anti-filarial drug testing (NC3R PhD Studentship) – 2015-2018
Mr Julio Silva-Furlong: Mechanisms of pathology or repair during filarial parasitism of the lymphatics (LSTM PhD Studentship) – 2015 – 2018
Current and recent lab members
Ms Ana de Castro Guimaraes 2011-2014, Research Technician (A.WOL Drug Development)
Dr Alice Halliday 2013-2014 Research Assistant (Grand Challenges Explorations) 
Dr Hayley Tyrer 2013-present Post-Doctoral Research Assistant (A.WOL Drug Development) 
Dr Hanna Sjoberg 2014-present Post-Doctoral Research Assistant (Grand Challenges Explorations) 
Dr Stephen Cross 2014- present Post-Doctoral Research Assistant (MRC)
Dr Nicolas Pionnier 2015- present Post-Doctoral Research Assistant (Grand Challenges Explorations) 
Visiting research students and staff 
2010-2011 Vincent Trachel (MSc student, EPFL, Switzerland)
2010-2011 Melanie Antille (MSc student, EPFL, Switzerland)
2015 Haelly Metuge (PhD student, University of Buea, Cameroon)