The Secret Art of Survival
The Secret Art of Survival - Creativity and ingenuity of British Far East prisoners of war, 1942 - 1945
This project is the culmination of over seven years' research identifying and locating previously unseen art works. The work had to made secretly and kept hidden by British servicemen in Far East captivity during the Second World War. To date over 65 artists have been identified, the exhibition in partnership with Victoria Gallery & Museum brings together their work for the first time. The work gives a rare insight in to life as Far East prisoners of war (FEPOW). 
Where: Victoria Gallery & Museum, Liverpool
Opening: Friday 25 October 2019
Secret Art of Survival - Creativity and ingenuity of British Far East prisoners of war, 1942 - 1945
About the Project 
The FEPOW study is the longest running project in LSTM's history.  From late 1945 until the late 1990s the emphasis was on healthcare, diagnosing and treating tropical infections and the effects of prolonged gross malnutrition. Since 1999, the focus has shifted to recording this unique medical history.  
Whilst conducting a major FEPOW oral history study from 2007 to 2009, researchers became aware of a growing number of previously unseen and unknown artworks, created secretly and hidden during captivity by numerous amateur artists; much of it remained hidden long after liberation, until now. Treasured by the veterans and now their families, this "documentary art" illustrates many aspects of captivity from everyday life, disease, medical ingenuity, the beauty of their surroundings to faith, humour and survival.
The Artwork
Art became the lens through which the artists illuminated the nightmare of disease and death in his midst. There was no other way of recording the neglect - no reporters or Red Cross delegations - just artists who recorded precisely what they wanted the viewer to see. And done at great risk. 
This art, created hurriedly against captors' orders, had to be kept hidden. Over 70 years on, it gives unique insights into the monumental struggle to survive, both physically and mentally, and represents countless and repeated acts of courage.  Artistic styles include depictions of the ravages of tropical infections, portraiture, landscape, ingenuity, cartoons and caricatures, theatrical posters, stage sets and wildlife studies.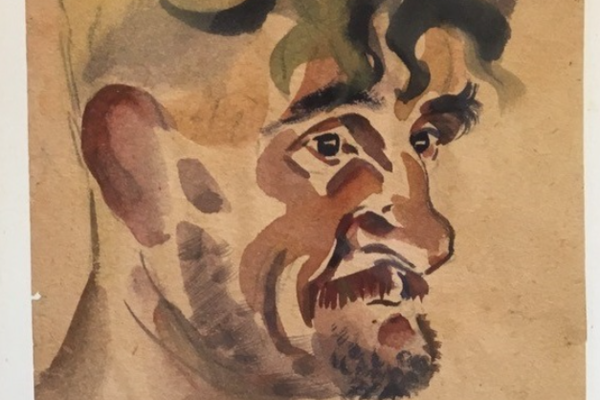 Events & Talks
A full schedule of events in conjunction with the exhibition will be available here in due course.
Date

Time

Title

Venue

Book

29/01/2020
14:15 - 15:30

Post concert exhibition tour by Meg Parkes, taking place after VG&M's Wednesday Lunchtime Music Concert

 VG&M

SOLD OUT!

15/02/2020
11:00 - 15:00

Focus on FEPOW Day - 15 Feb is the anniversary of the fall of Singapore (1942), a date of huge significance in the War in the Pacific during the Second World War.

      Throughout the day we will have guided exhibition tours by exhibition researchers Meg Parkes and Geoff Gill – Maximum of 12 people per tour. Start times (20 -30 mins per tour):

11am 
11.45am
12.30pm
1.30pm
2.15pm
3pm

Gill Wareing, web manager at Liverpool School of Tropical Medicine will have tips and guides on how to add your stories on to our online FEPOW Family Descendants Families Oral History project

Drop-in session

The many, many uses of bamboo activity session led Ness Gardens

Drop in session

 VG&M
 15/02/2020
 11:00 - 15:30

 

Focus on FEPOW Day - 15 Feb is the anniversary of the fall of Singapore (1942), a date of huge significance in the War in the Pacific during the Second World War.

 Introduction to conservation workshops by James Caverhill, who conserved and framed most of the artwork for the exhibition – Maximum of 20 people per session

11am – 11.45am
12.30pm  – 1.15pm
2.15pm – 3.30pm

 VG&M
 Tickets
 15/02/2020
11:00 - 14:15 
 


Focus on FEPOW Day: Nor Iron Bars A is talk by Jane Davies, Curator, Lancashire Infantry Museum. Jane will use personal diaries, Nor Iron Bars (a magazine produced by the men) objects and artwork from the men 2nd Battalion, the Loyal Regiment and their experiences imprisoned in Changi and Keijo camps

 VG&M
 Drop-in

20/02/2020
17:30 - 19:00

Teatime talk series (2 of 6) –'A Knife, Fork and Spoon Surgeon:The Life of Captain Jacob Markowitz RAMC' by Paul Watkins

Exhibtion extended opening until 5.55pm, talk begins at 6pm prompt.

 VG&M

 
 

Tickets

 

05/03/2020

 

 

17:30 - 19:00

Teatime talk series (3 of 6) – 'Creativity in Captivity' focusing on collections of the British Red Cross by Mehzebin Adam

Exhibtion extended opening until 5.55pm, talk begins at 6pm prompt.

 
 Tickets
07/03/2020
TIMES TBC
VG&M Super Saturday - British Science Week family interactive event focusing om FEPOW medical innovations in the camps. 
 

 VG&M

 

 

TBC

01/04/2020

17:30 - 19:00

 

Teatime talk series (4 of 6) – 'Lines of Engagement - Drawing Live Action by Julia Midgley'. A reportage artist with a special interest in medicine, military medicine, surgery and rehabilitation

 VG&M

 

Tickets
We need your support!
We would like to say THANK YOU for the overwhelming support we have received toward this unique and historically important project. Without your generosity, this project would not be possible!
Your donation, no matter how big or small will help us to deliver a learning and activity programme for a wide range of audiences, including local school children, veterans and ex-service personnel and community groups. This will greatly increase awareness and understanding of FEPOW history and engagement in the exhibition developed in partnership with the Victoria Gallery & Museum. 
If you would like to dontate to the campaign you can do so online by CLICKING HERE or by sending a cheque to Liverpool School of Tropical Medicine to:
Fundraising Office
Liverpool School of Tropical Medicine
Pembroke Place
Liverpool
L3 5QA
With thanks to:

We would like to acknowledge the support of our donors who generously contributed via our Crowdfunding appeal:
Martin Percival
Julie Aldridge
Felicity Jones
Medical Artists Association of GB
National FEPOW Fellowship
Stephen Campion
The Java FEPOW Club 1942
Hugh Neil McQuaid
Barbara James
Tony McQuaid
Paul Dufton
Judith Provis
Keith Andrews
Trish Cooper
Martin Percival
Sarah Galbraith
Carol AM Friend
Sandra Mary Gill
Patrick Toosey
Margaret Diane Bakran
Graham Spearing
Nicholas Campion
Meg Parkes
David Redwood
Frank Davis
Dr Alfred Anthonny Gilbertson
Dr Kamaluddin Khan
Dr Aleksander L B Jedrosz
Agnes McDowall
Paul Bartholomew
MatthewMaisey
Sean Bruce Duncan

Michael Thorneloe
Sarah Hunt
Melanie Aspey
Nick Beeching
Sally Warnock
Mrs Vicky Taylor
Sarah Hay
Louise Reynolds
Ronald Liam Wilson
Angela Danes
Pete Starling
Vicky Kirby
Dominic Stallard
Mark Davies
Ray Withnall
Paul Wakefield
Richard & Susan Brown
Miss Jayne McGeorge
Damien Lewis
Walter Tuttlebee
Keiko Christine Holmes
Kathy Knott
Thomas Wilson
Dominic Evans
Melanie Woollam
Kathy Moore-Stanley
Ben Stallard
Helen Chown
W.R.Lee
Andrew Rice
Anne Read
Jay Kennedy

Jean Taylor
Alison Gill
Joseph Marsh
John Ridyard
Linda Meister Pavillard
Frank Williams
James Coxhead
Thomas Wilson
Christine Gate
Linda Jones
Keith Foggin
Rosemary Murphy
Diana Neaves
Martin Vaughan
Sally Grumbridge
Rosemary Butcher
Nick Aldridge
Kevin Noles
Helen Innes
Amanda Farrell
Jonathan Gill
Bobbie Jeal
Alastair Blair
Adrian Davies
Jill Thompson
Michael O'Hara
Alan Mawdsley
Barbara James
Graeme Norways
Toby Norways
Simon Munton
Stephen John
With thanks to the many other donors who wish to remain anonymous and to all the lenders of the items on show, especially the FEPOW descendants.