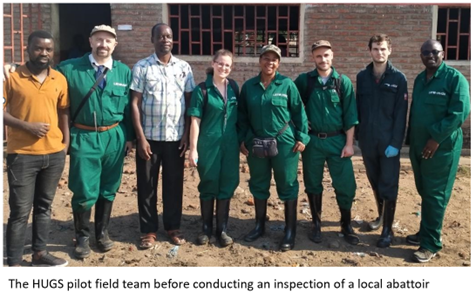 During the autumn of 2021, the UK and Malawi HUGS teams were on stand-by, continuously inspecting UK and Malawi travel regulations, waiting for an opportune window of international travel. A suitable 3-4 week period was needed to conduct the necessary pilot investigation in Mangochi and Nsanje Districts, respectively.  
Our pilot investigation was vital to best identify then establish the future working areas within each districtas precisely as possible. Site selection for study and collection of schistosomes from snails, people and livestock is not a trivial exercise since the spatial distribution of schistosomiasis can be remarkably focal across space and dynamic through time. In short, transmission foci can be very ephemeral,coming and going, as the aquatic environment changes.  
As our last survey for hybrid schistosomes was some five year's out-of-date, contemporary parasitological and malacological evidence was needed. Without it, it would be all too easy to miscue the selection of locations of our two chosen sentinel communities. Here we would later follow-up with a judiciously planned multi-stakeholder dialogue,with engagement plan, to establish our future parasitological longitudinal study and cross-site comparison(s). Additionally, without on-the-ground observations, you could easily select and target water contact sites where schistosome infected snails might never be found.Indeed, a considered selection of sampling sites from those where recent evidence is available raises the long-term chances of HUGS's success remarkably.  
In late October, with Malawi being removed from the Red list of UK restricted countries, the LSTM team of Sam Jones, Alex Juhasz, John Archer and Russ Stothard, now fully vaccinated and tested negative for COVID-19, were fit to fly. Our four-week period of activities commenced in late October. Once arrived in Blantyre,and confirming thatall necessary logistics were in place, the LSTM-MLW field team, inclusive of Janelisa Musaya, Peter Makaula and Seke Kayuni,first set off to the Lake Malawi shoreline in Mangochi District. The team was also joined by new support staff, Bright Mainga and Priscilla Chammudzi, and upon completion of this leg of the trip the team returned to Blantyre. After a short recuperation to restock supplies, the field team then departed to the Lower Shire River shoreline in Nsanje District. 
Within each District four primary schools were each spot-checked for schistosomiasis. The prevalence of active schistosomiasis ranged from 15-80% in Mangochi and 5-65% in Nsanje. Using these data, we then confirmed the final selection of communities around Samama School in Mangochi and communities around Mthawira School in Nsanje. Using a combination of satellite imagery and on-the-ground observations we were able to start first community dialogue with village leaders and local health surveillance assistants. This was in preparation for detailed community-wide surveys to be undertaken the following year, where 1,200 people per location would be enrolled.  

After inspecting several freshwater habitats for (infected) snails, seven sites in Mangochi and three in Nsanje were identified, with an additional two freshwater snail sampling sites in Chikwawa District,en route back to Blantyre, identified. Furthermore, an initial livestock inspection, the first of its kind in Malawi, within district was attempted using a combination of faecal examinations and slaughtered carcass inspections. These faecal assays were first honed during Knowsley Safari investigations. It appears that cattle rather than sheep and goats to be more heavily infected with schistosomes.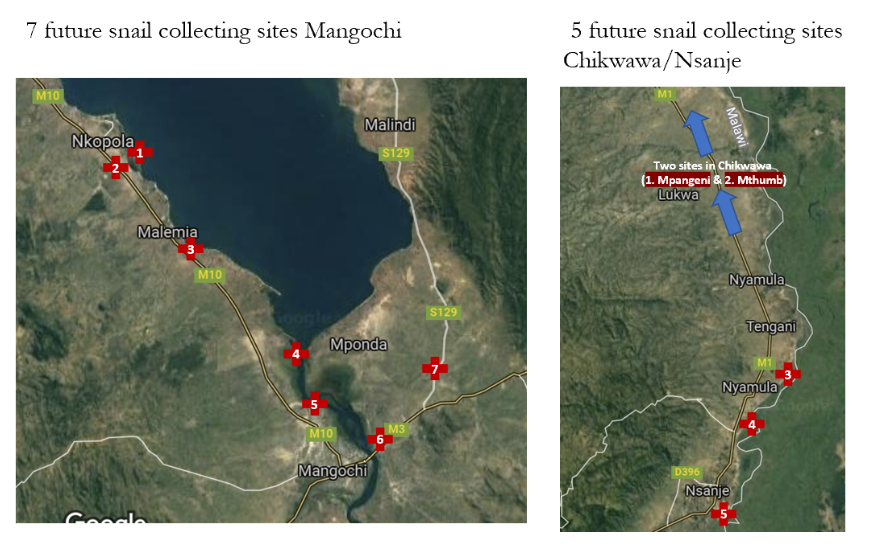 Upon completion of our pilot survey, the UK team was especially fortunate to return to the UK a day before Malawi was reinstated back onto the UK Redlist. Being requested to home quarantine rather than in an approved hotel, was much more appealing as new UK regulations came into force. Nevertheless, the full force of the impeding Omicron wave was to later break in mid-December.  
To conclude,our pilot investigation was seminal and built a solid foundation for future HUGS studies. From analysis of the total evidence, twelve locations for future snail sampling have been identified and have been revisited during 2023. A major clue was first recognised in the different epidemiology of veterinary schistosomiasis in Mangochi and Nsanje Districts. Finally, Samama and Mthawira were carefully chosen as our two communities of interest for forthcoming examinations in July 2023.