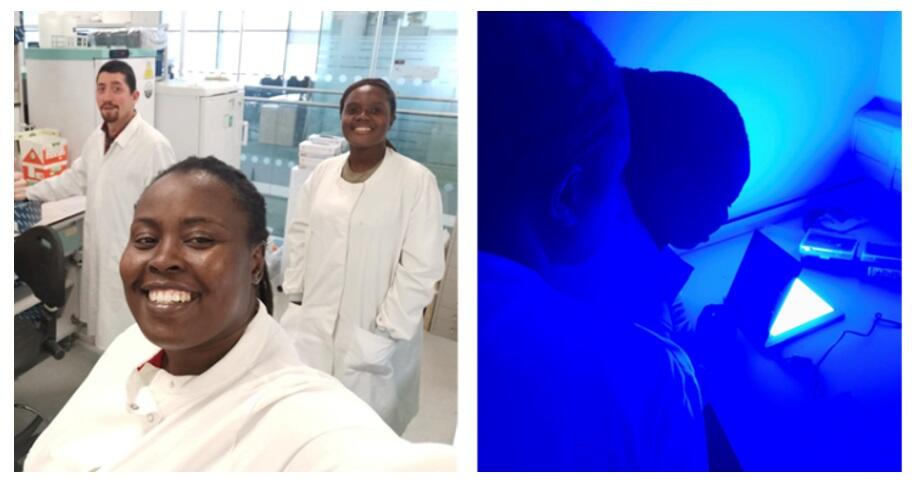 As part of HUGS' overarching knowledge exchange and capacity development in hybrid schistosome research, Ms Donales Kapira and Ms Priscilla Chammudzi left Malawi to visit the UK for two week's training. Here in the CTID laboratories, Dr. Lucas Cunningham provided bespoke one-to-one teaching in various molecular DNA methods and diagnostic genotyping assays. Leaving Malawi was particularly significant for Donales, being her first visit to the UK but more importantly, her first time in a plane.  
Taking first steps in the laboratory, Donales and Priscilla were shown key tricks in protocols for DNA extraction and amplification of schistosome loci from stool and urine specimens, FTA card punches and snails. Their amplified products were initially inspected by high resolution melt (HRM) profiling and whilst they performed all of these methods with single channel pipettes, both mixing and dispensing by hand, Lucas introduced them to the MYRA robot. This new kit facilitates large-scale liquid handling.
Each were particularly excited to use the robot, for this coming summer, the machine will be transferred to Malawi. This will boost their capacities to process samples obtained from HUGS' human, animal and snail investigations. This is wonderful news as it will automate many of essential but repetitive laboratory steps, to enable quicker screening of thousands of samples, with greater diagnostic accuracy and precision.
To gain deepest insight into hybrid schistosomes, large-scale screening is crucial. Typically, hybrids are present in the minority so to find all hybrid variants, exhaustive screening of several hundreds of samples is necessary. In so doing, this gives us best chance of finding those hybrids that are only just beginning to emerge. Indeed, HUGS' search for such 'hybrid' needles in nature's haystack of biodiversity is exciting.
During screening, Donales and Priscilla found new hybrid schistosome signatures. Quickly acting upon this, they purified amplicons with Lucas in readiness for later Sanger sequencing. They now eagerly await these results and, ahead of time, gained new skills in bioinformatics using MEGA software. Being able to document, then interrogate single nucleotide polymorphisms within mitochondrial and nuclear targets, can reveal much about a newly encountered hybrid's maternal and paternal ancestry and its epidemiology.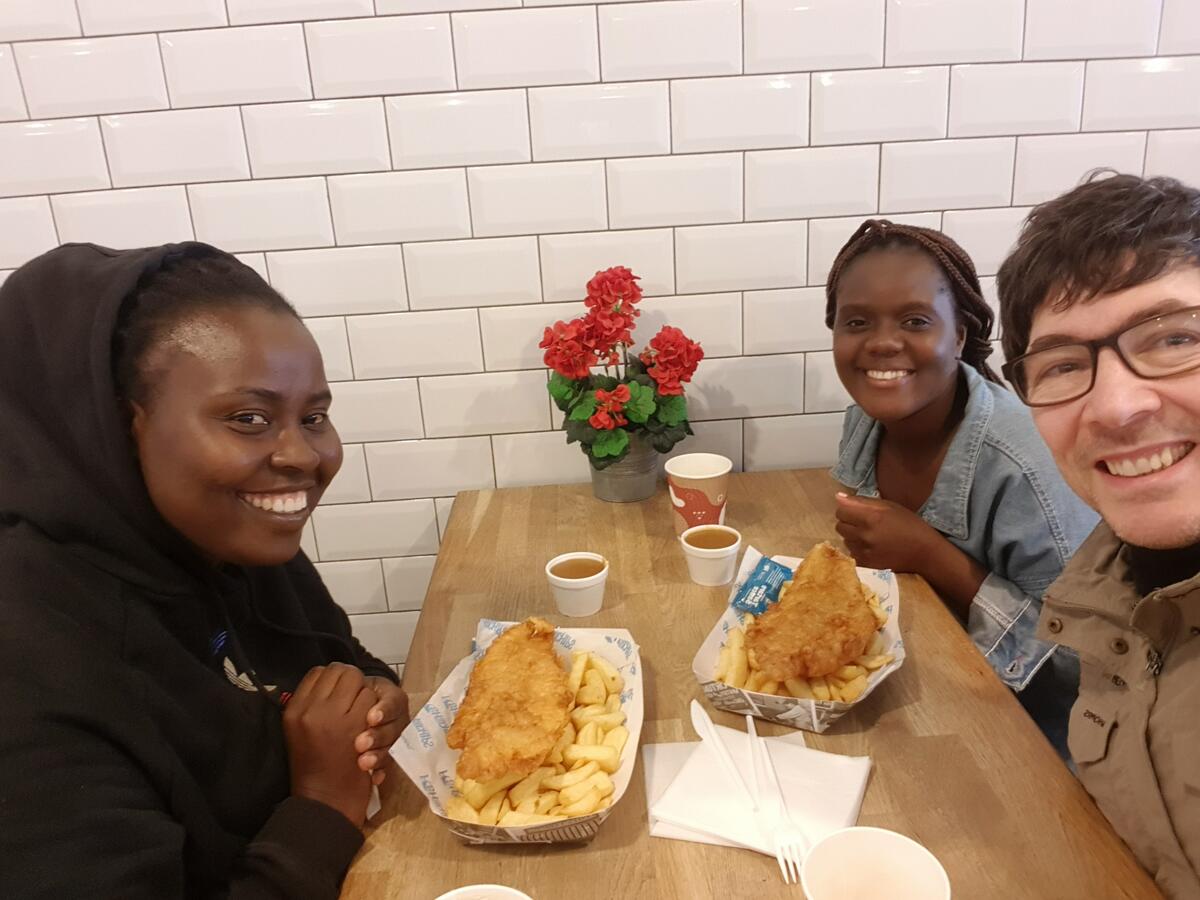 In between periods in the laboratory, they attended various lectures, a DTM&H lecture on rabies being very memorable, and toured the Centre for Snakebite Research's herpetarium, alongside LSTM's insectaries with its tsetse colony. The latter is of special interest for together with Prof. Janelisa Musaya, Donales and Priscilla have each worked on trypanosomiasis in Malawi. On their last day, they attended Vector Biology Department's symposium on "Anthropogenic and Climate Change" listening to HUGS, U-SMRC and SHIRE_VEC latest findings as presented by Prof. Russ Stothard.
To close, our two-week experience made us appreciate UK life. We sampled 'fish and chips' with Dr James LaCourse, learned about LSTM's wider efforts on research and control on neglected tropical disease and interacted with several staff and students, exploring different activities and disciplines. We were especially grateful to the Wellcome Trust to have had this opportunity. We really covered a lot of new ground, for not only have we learned much about molecular epidemiology, we've now been inspired to become better scientists with further reaching career horizons in sight.