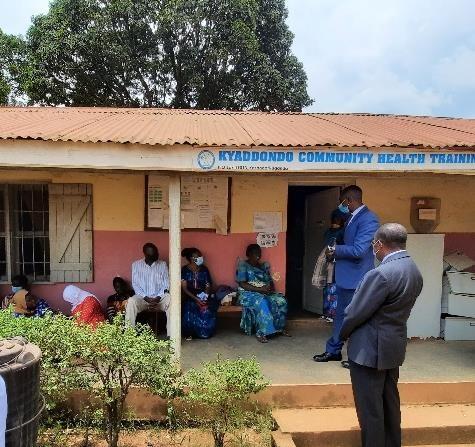 As part of our engagement with policy makers we were delighted that Josephine Birungi was invited to present RESPOND-Africa's work at a national NCD Technical Working Group (TWG) on 26 February. The meeting was chaired by the Commissioner for NCD Program in Uganda, Dr Oyoo Charles Akiya, and in attendance was the Assistant Commissioner for NCD program, Dr Gerald Mutungi; the Assistant Commissioner Tuberculosis, Stavia Turyahabwe; senior HIV Program Officers from the Ministry, researchers, and civil society representatives.  
Feedback from the presentation was very positive, with Josephine asked to work with the Ministry of Health secretariat and make another presentation on how to operationalise integrated care. This second presentation will be made to the senior management of the Ministry at their next meeting
Following from the Technical Working Group, the Uganda team was delighted to welcome Dr Joshua Musinguzi, the Commissioner for HIV Program (Head of the national AIDS control Program), and Dr Mutungi to the Kasangati Health centre on 4 March. Kasangati is one of 17 sites in Uganda in the INTE-AFRICA programme and during the visit the senior Ministry of Health policy makers spoke with patients and health care workers on how integration was working at the facility.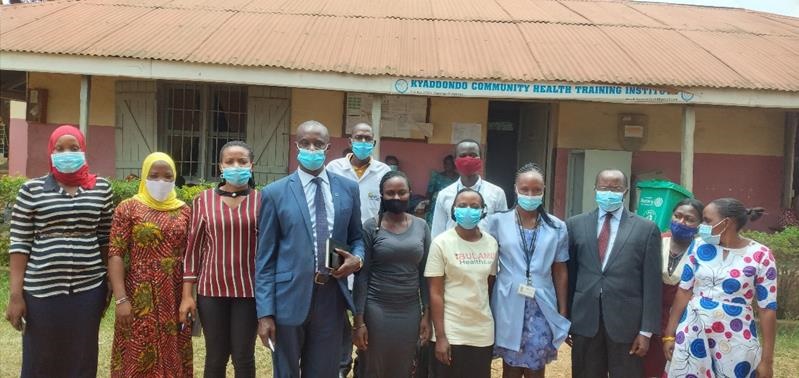 Drs Musinguzi and Mutungi also discussed the challenges in accessing medication with patients, who explained that one of the main barriers they face in adherence to medication is the costs incurred – it being too expensive for many people. Patients asked if free supplies and diagnostics could be considered for NCD patients, like is in place for patients with HIV.  Whilst speaking with healthcare workers, the Ministry of Health officials heard that integration is very helpful, from the healthcare workers perspective, as patients at the integrated sites can be screened and identified early for chronic diseases before complications arise.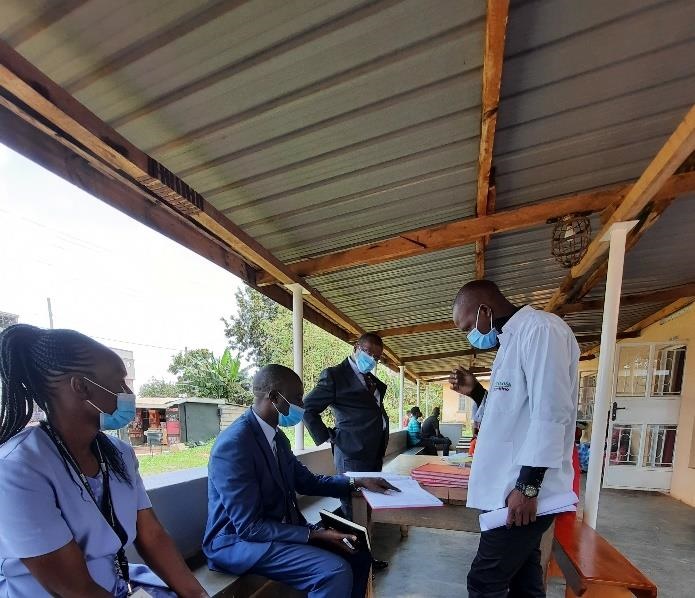 Dr Musinguzi thanked the health workers for embracing the integration study, stating that the INTE-AFRICA study team is undertaking this study on behalf of the Ministry of Health which is very keen on integrating chronic care. Dr Mutungi emphasised the need to screen for hypertension in every patient over 40 years old who presents to the facility for care.
On behalf of the partnership, we would like to thank Dr Musinguzi and Dr Mutungi for taking the time to visit the Kasangati Health Centre. The support from our Ministry of Health colleagues is crucial to our research being relevant and the evidence generated having an impact - we very much value such visits and meetings