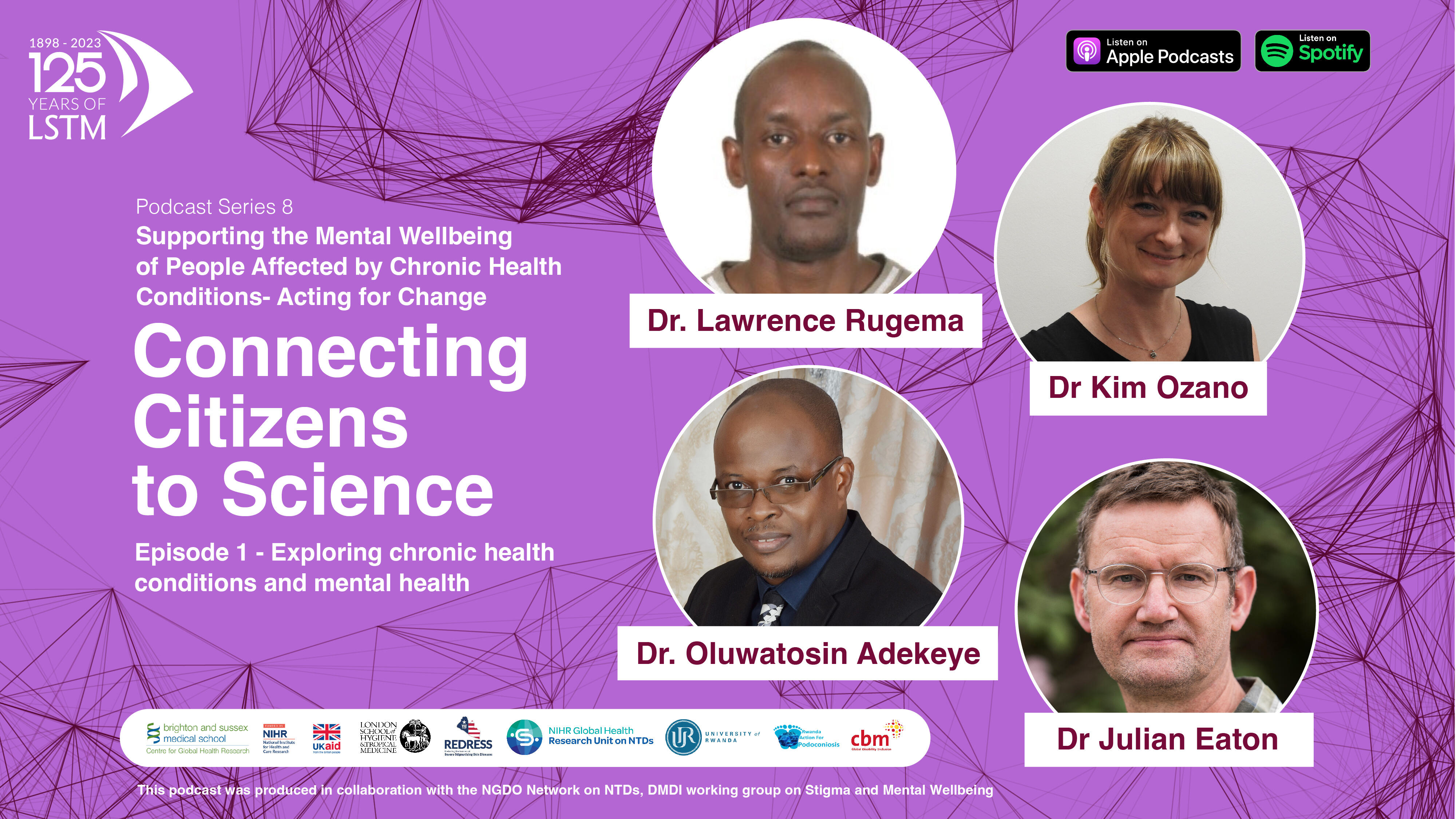 In this episode, we hear from Dr Rugema Lawrence from the University of Rwanda and Dr Julian Eaton from the London School of Hygiene and Tropical Medicine and CBM Global Disability and Inclusion. Together they discuss the links between stigma, discrimination, mental wellbeing and chronic health conditions including Neglected Tropical Diseases (NTDs), how these issues are currently being addressed with communities and the importance of ensuring mental health is part of an essential care package. 
Guest host for this series
Dr. Oluwatosin Adekeye
Assistant Director of Clinical Psychology, Department of Psychiatry Ahmadu Bello University Hospital Zaria Kaduna
A social scientist with varied experience in both clinical and research aspects of health among communities in Northern Nigeria. As a Clinical Psychologist, his work has been both on mental and behavioral disorders and the effects of chronic disease on the well-being of patients and caregivers. As a Social Scientist, he just concluded a study that documented the well-being of people with stigmatizing skin diseases and established a care and support group within the community. More recently he is working on developing a well-being tool for parents and children with disability.    
Twitter Links:
@TosinOluw
@Sightsavers
Dr Julian Eaton 
Mental Health Director at CBM Global and Assistant Professor at London School of Hygiene and Tropical Medicine
Julian Eaton is the Mental Health Director for CBM Global Disability and Inclusion. He works with a team focused on improving access to care and support, and promoting the voice of people with psychosocial disabilities in low and middle income countries. He is an Assistant Professor at the Centre for Global Mental Health at London School of Hygiene and Tropical Medicine, where he is currently leading a number of research projects looking at strengthening community-based mental health care, reform of public mental health systems in Africa, and Neglected Tropical Diseases. He leads the Mental Health Innovations Network at LSHTM, and is Chair of the Bond International NGO Mental Health Group. Julian trained as a psychiatrist in London where he now works, after living and working in West Africa between 2003 and 2017. 
CBM Community Mental Health homepage: 
https://cbm-global.org/what-we-do/community-mental-health 
Blog on community participation: 
https://cbm-global.org/blog/patient-and-communities-at-the-centre 
SUCCEED homepage: 
https://www.lshtm.ac.uk/research/centres-projects-groups/succeed 
Twitter:
@julian_eaton 
@CBM_global 
@MHInnovation.net 
@GMentalHealth 
@LSHTM 
@SUCCEEDAfrika
Dr. Lawrence Rugema  
Lecturer, researcher and Consultant University of Rwanda – School of Public Health  
Dr Rugema Lawrence is a public health professional at the University of Rwanda. Most of his research work has focused on mental health and reducing stigma related to mental illness.  Currently he co-leads implementation research on Podoconiosis in Rwanda under NIHR funded Global Research Unit on Neglected Tropical Diseases in collaborator with the Brighton Sussex Medical School. In this particular research, community health workers are critical to in reducing podoconiosis related stigma. Coordinate rapid community health needs assessment through outreach program to inform policy.  
This is a podcast in the series: Connecting Citizens to Science, which focuses on health research based on equitable partnerships between researchers and communities.