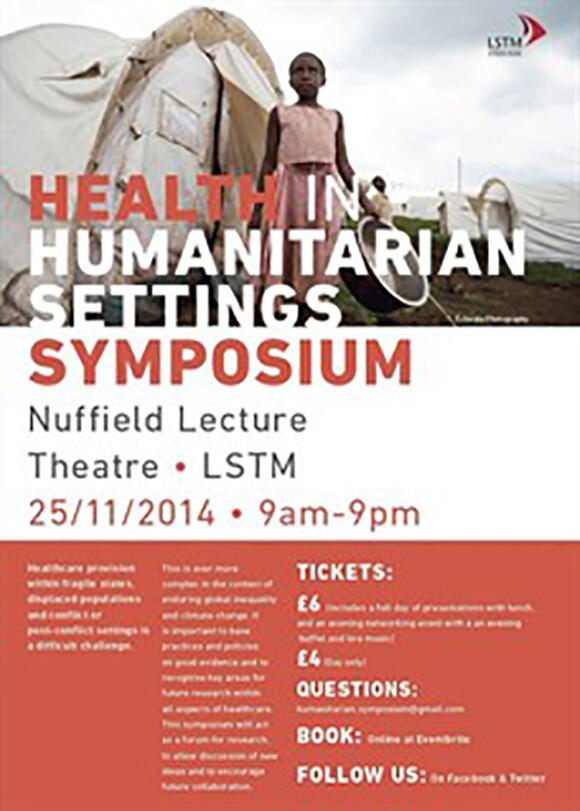 Today LSTM is playing host to the 4th Annual Health in Humanitarian Settings: Research Symposium. Students and staff from a number educational and research institutions, along with a variety of participants from many different NGOs have come together to debate the challenges of delivering effective healthcare in humanitarian settings.
The symposium is a forum for original research, with papers being delivered around four central themes: The Challenges and Practicalities of Humanitarian Aid; Children in Humanitarian / Development Settings; Infectious and Neglected Tropical Diseases and Working in Conflict Zones. Each of the sessions will be chaired by an expert in the field, and there will be a keynote speech from Dr Lorenzo Savioli, recently appointed as a Senior Professorial Fellow at LSTM, following his retirement as head of the Department of Control of Neglected Tropical Diseases at the World Health Organization (WHO).
Along with the oral presentations there is also the opportunity to view a number of poster presentations, which along with the oral presentations, will be judged by a panel of experts, and awards will be presented at the end of the afternoon.
Following the event at LSTM, many of those involved will take part in an evening event nearby which will involvediscussions on the role of celebrity in humanitarian aid and the role of photojournalism, accompanied by a humanitarian photographic exhibition.
The symposium organiser, Megan Evans, a fifth year medical student at the University of Liverpool and a recent graduate from LSTM, is excited about the event: "This is our fourth annual event, and we are all looking forward to what we are sure will be an opportunity to build further on last year's extremely successful symposium. We have an exciting line up of speakers presenting papers that we hope will spark some very interesting and informative debate, and the poster presentations are as always of a very high standard. I am sure that our audience will enjoy the whole day and I hope that many of them can join us for our networking event in the evening."