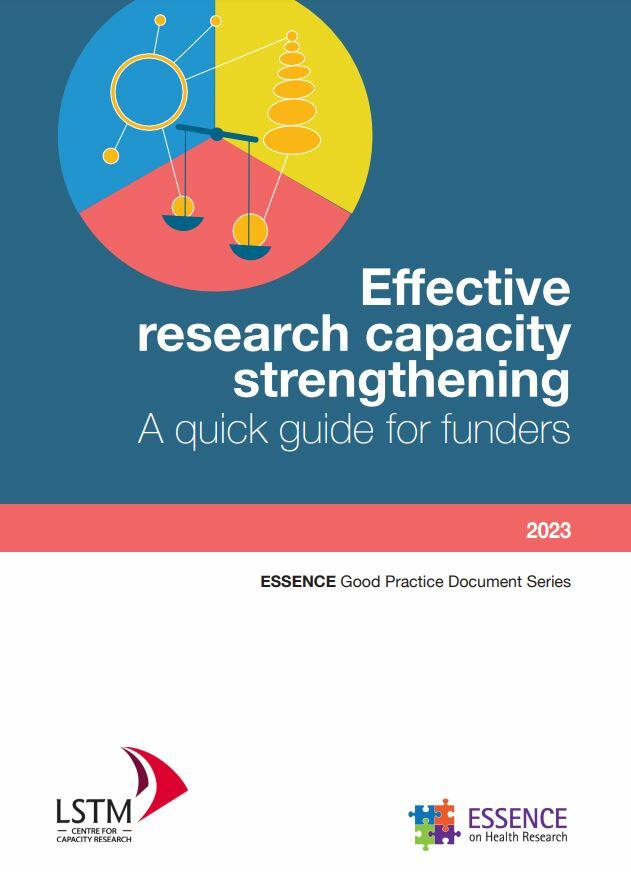 The Centre for Capacity Research at LSTM, in partnership with WHO ESSENCE, have developed a quick guide for funders on effective research capacity strengthening. ESSENCE is primarily a group of international health funders focused on strengthening research capacity in low- and middle-income countries [Essence on health research (who.int)] and the guide is designed to help funders use a common and evidence-informed approach to funding programmes with a research capacity strengthening component.
The purpose of strengthening research capacity is to ensure that scientific and development cooperation empowers partners to develop their own educational systems and institutional frameworks in order to become self-sufficient in efforts to reduce inequalities and to promote socio-economic development.
Between 2016-2021 the UK government and Wellcome Trust alone collectively spent around £2 billion[1] on strengthening research capacity and much of this was invested in activities that were not based on evidence, and which were not measured. This means that funders often do not know if their investment results in meaningful outcomes and impact.
The Effective research capacity strengthening – A quick guide for funders willenhance the design, implementation and evaluation of research capacity strengthening programmes and will enable comparisons among programmes and accelerate learning about how to make the best use of resources. Ultimately, it will create more equitable global partnerships and resilience to respond to national priorities.
The guide was co-developed with funders (health and non-health) and co-produced by CCR-LSTM and ESSENCE members and collates funders' case studies to highlight key issues. The guide is split into three sections: 1) Evidence-informed programme design, 2) Implementation tools to help assess research capacity strengthening applications, and 3) Evaluations that inform future practice.
Dr Garry Aslanyan, Head of Secretariat of the ESSENCE on Health Research initiative, said: "I am delighted to launch the quick guide for funders on how to effectively strengthen research capacity. The long-term impact of better research capacity strengthening will lead to more equitable partnerships, including south-south and south-north learning and sharing. Making research capacity strengthening measurable and needs-driven, will enhance funder's ability to recognize and commission research that meets national priorities".
Prof Imelda Bates, Head of the Centre for Capacity Research, commented: "Using evidence to guide funders investments in research capacity strengthening efforts will help funders to measure research capacity strengthening changes and to focus on equity, fairness and inclusivity. Having more conducive and supportive research environments globally that put wellbeing and integrity at the heart of research and which value everyone's contribution to the research process, are needed now more than ever. Our next steps are to encourage wide use of the 'funders quick guide' and to work with partners to produce a companion guide for research teams to ensure that this can be achieved for all".
The Effective research capacity strengthening – A quick guide for funders is available on the ESSENCE webpage.