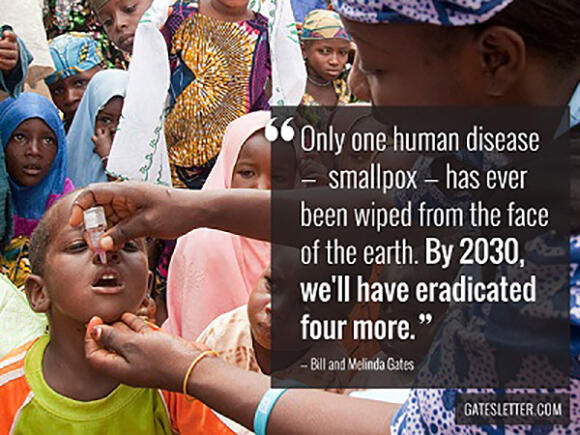 Today's publication of Bill and Melinda Gates' Annual Letter includes a call to the international development community to end four Neglected Tropical Diseases (NTD) – guinea worm, elephantiasis, river blindness and blinding trachoma – by 2030.
LSTM welcomes this announcement, bringing as it does some much needed attention to NTDs, an area that LSTM has a continuing and expanding research portfolio underpinning our commitment to eradicate some of those diseases affecting many of the poorest and most disadvantaged people in the world.
Emeritus Professor David Molyneux, who is pivotal in LSTM's expanding NTD portfolio, said: "LSTM has had a long standing and continuing interest in the parasitic infections targeted by Bill and Melinda Gates in their annual letter. Indeed LSTM staff were first to describe the transmission of elephantiasis and river blindness in Africa as far back as 1899 and 1926 respectively, whilst the drugs used in many programmes were first developed by LSTM."
With support from the Bill and Melinda Gates Foundation (BMGF), LSTM continues to undertake the research necessary to produce the next generation of drugs, vector control technologies and diagnostics to fulfil the aspiration of elimination or eradication of the diseases of poverty so prevalent in the poorest populations in the tropics, whilst the Department For International Development (DFID) supported programmes in 12 countries provide support to endemic countries to rid their population of the problem of disabling elephantiasis.
"This work is also strongly supported through our partnerships with pharmaceutical companies who provide the donated drugs and new insecticides which underpin NTD elimination programmes", said professor Molyneux. "Over the last decade LSTM has been at the forefront of global NTD initiatives, generating momentum and working in partnership with disease endemic countries on treatment and research- essential components necessary to fulfil Bill & Melinda Gates' aspirations of eradication by 2030. We will continue to provide our expertise and experience to ensure that the most vulnerable benefit from the investments made through the BMGF and our other funders."
He concluded by saying that "we share the hopes that by 2030 at least some NTDs will be history and no longer blight the lives of the poorest of the poor."