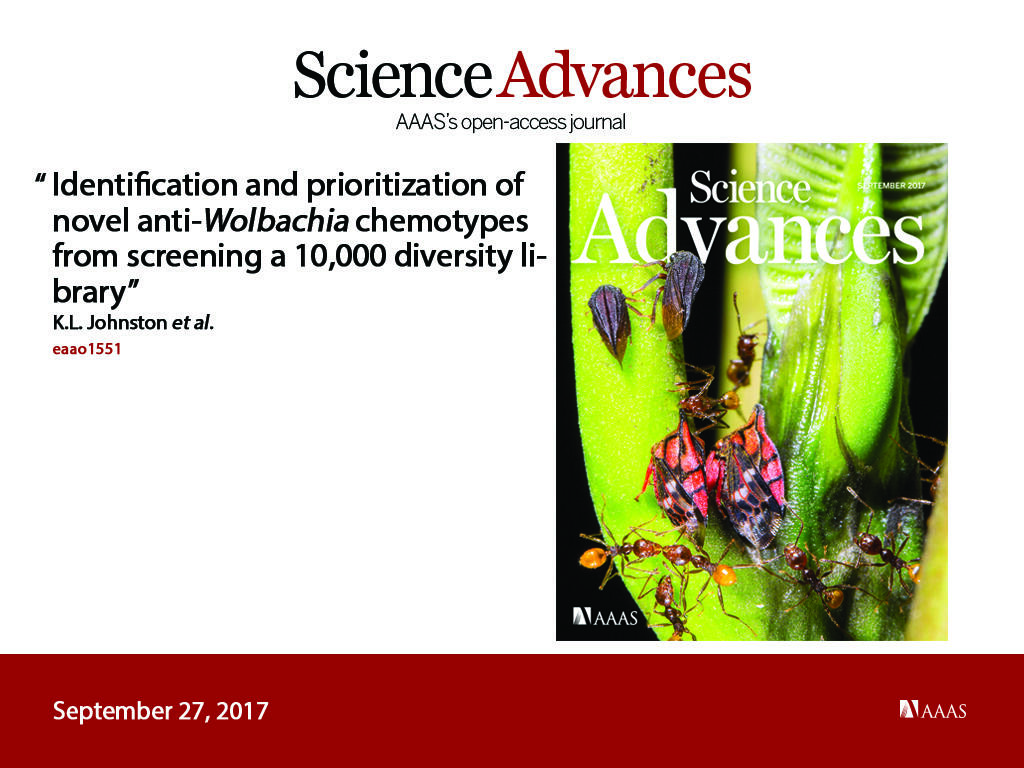 Researchers from the A∙WOL consortium, based in the Research Centre for Drugs and Diagnostics at LSTM, have carried out whole cell screening of a 10,000 compound library. This has lead to the significant discovery of novel active chemotypes which have the potential to form new drugs, targeting Wolbachia, in the fight against lymphatic filariasis and onchocerciasis.
Lymphatic filariasis (LF) and onchocerciasis are neglected tropical diseases (NTDs) caused by filarial parasites that can lead to severe disability. In the search for new anti-filarial drugs, the team have focussed on targeting Wolbachia, a bacterial symbiont that is essential for parasite development and survival.
Funded by the Bill and Melinda Gates Foundation, the team have already screened thousands of existing drugs to look at their suitability to be used against LF and onchocerciasis and continue to have success with this approach. In this latest research, the results of which are published today in the journal Science Advances, they have widened the search and identified six new chemical series which could be developed into completely novel anti-Wolbachia drugs that could translate into improved treatments for LF and onchocerciasis.
Dr Kelly Johnston is joint first author on the paper, with scientists at LSTM and the Department of Chemistry, University of Liverpool, and explains the significance of the work: "There is an urgent need to discover a curative drug for these debilitating diseases and we know from proof-of-concept clinical trials that targeting Wolbachia is an effective and safe strategy. Here, we have built upon our previous screening campaigns to test 10,000 compounds from the BioFocus Soft Focus® group of compound libraries with the aim of exploring novel chemical space."
Initial validation screens led to 50 hits with comparable or better activity to the current gold standard treatment of doxycycline in reducing the Wolbachia loads in vitro. "Subsequent chemoinformatic analysis identified six anti-Wolbachia chemotypes with suitable drug-like qualities and scope for medicinal chemistry optimisation." Continued Dr Johnston: "While the paper presents all six, we focus on one of these templates which has real potential to translate into improved antibiotic treatments for LF and onchocerciasis, continuing A∙WOL's drive to work towards clinical candidates that will positively impact on the lives of people in some of the world's poorest communities."
You can read the full paper here.  
Video courtesy of Kelly Johnston and Rachel Clare, Liverpool School of Tropical Medicine