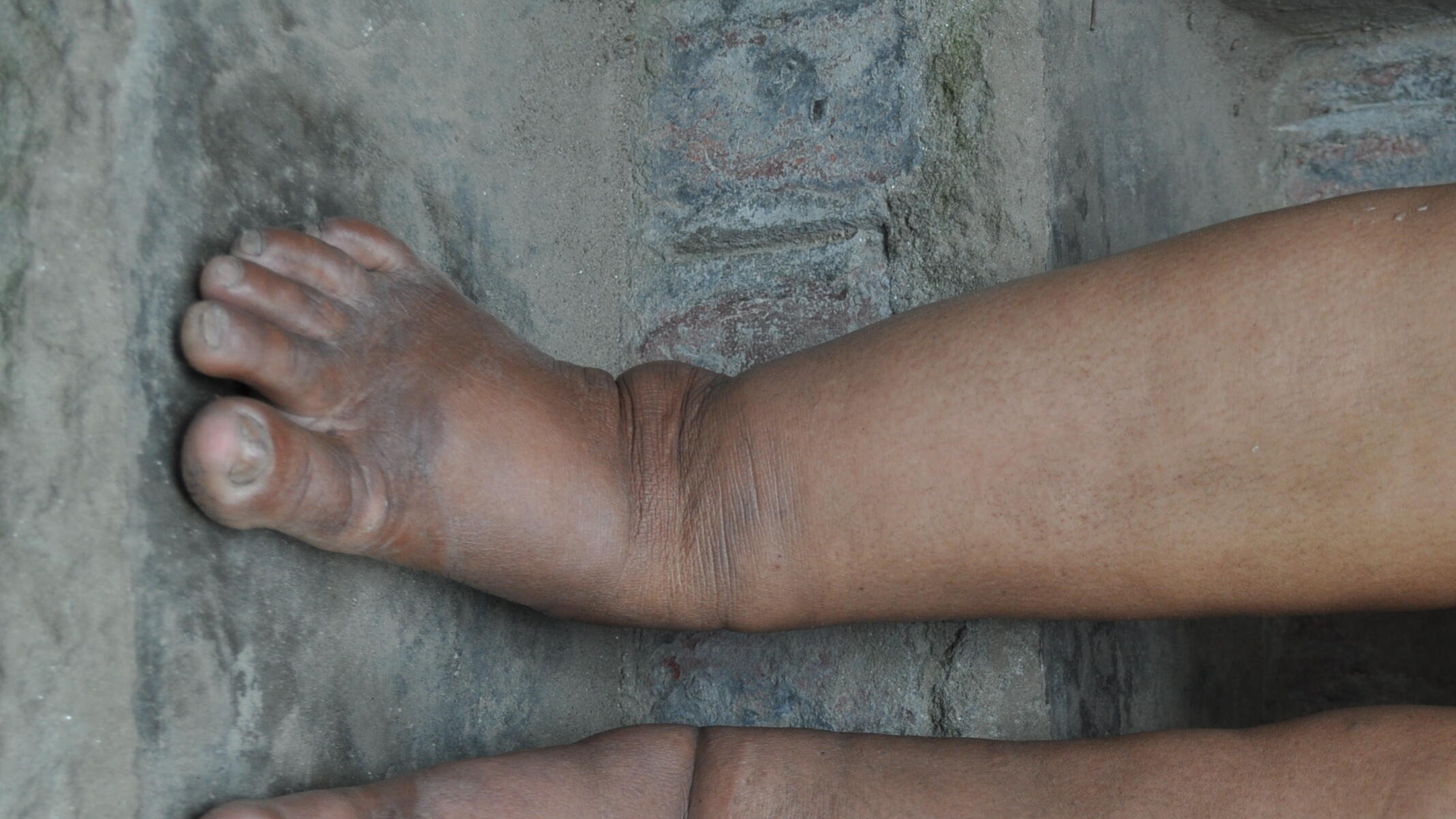 The World Health Organization (WHO), has declared that Bangladesh has eliminated lymphatic filariasis (LF) as a public health problem with the help of LSTM's Centre for Neglected Tropical Diseases (CNTD), which has worked with the Bangladesh Ministry of Health and Family Welfare since 2011.
LF is a neglected tropical disease (NTD), which disproportionately affects some of the world's poorest populations and is a leading cause of disability worldwide. As part of its LF Elimination Programme, funded by UK Aid (DFID/FCDO) from 2019 to 2020 and GSK from 2009 to 2022, CNTD, supported over 20 countries in Africa and Asia in their efforts to eliminate Lymphatic Filariasis. 
Working with the Bangladesh Ministry of Health and Family Welfare, CNTD supported the Bangladesh LF programme to deliver treatments to more than 12 million people through mass drug administration, followed by essential surveys and surveillance activities that formed part of the validation process, to assess and confirm whether elimination targets had been met. 
LF is a long term disease that causes pain and severe disability for sufferers, as well as stigma for those directly affected and their families.  In partnership with the Bangladesh MoHFW and Centre for Injury Prevention, Health Development and Research (CIPRB), CNTD supported Bangladesh's initiative to revitalise 2000 community clinics and provide LF related morbidity management and disability prevention care in remote and hard to reach areas.  
The Director of CNTD, Professor Mark Taylor, added: "A truly remarkable achievement by Bangladesh and another beacon of hope for those countries engaged in eliminating LF. CNTD's work in the country has been extensive and there is no doubt that the programme has been a success because of the forward thinking of the Bangladeshi Ministry of Health and Family Welfare and the combined efforts of all of the partners involved. CNTD was formed in 2009 with the generous support of funding from the British taxpayer, with the purpose of bringing relief to those suffering from this debilitating disease in Bangladesh and wherever people are affected. While it is important to celebrate this announcement from the WHO, we must continue our efforts to work towards elimination of LF in all endemic settings."