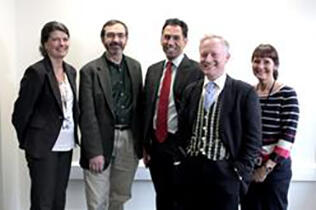 The series, starting Sunday 21st July, shows the stories of UK travellers visiting WTC for consultations and those admitted to the Tropical and Infectious Disease Unit (TIDU) at the Royal. The programme features patients who have fallen victim to attacks from parasites while overseas and are suffering from diseases not usually found in the UK, including sleeping sickness and liver fluke disease. These are caused by parasites invading the body and attacking patient's vital organs which if not treated can lead to serious consequences.
As well as showing the experiences of British travellers, the series travels to Tanzania, Zanzibar and Sri Lanka showing how devastating malaria, schistosomiasis and snakebite can be for people in living in these countries and how local disease control programmes and health professionals are working to prevent their devastating impact.
LSTM is home to some of the world's leading experts in tropical medicine and together with WTC provides pre-travel advice and post-travel consultations, while the TIDU is the regional specialist unit for infectious diseases caring for patients from across Merseyside and Cheshire and further afield. The series highlights the unique relationship between these teams, resulting in patients receiving world-class treatment right here in Liverpool.
Appearing regularly in the series is LSTM's Professor David Lalloo, who said: "The programme has provided a unique opportunity to demonstrate the extensive research undertaken here in Liverpool to improve health in resource poor settings in the tropics. It also shows the close relationship between improving treatment in the tropics and looking after patients with tropical diseases in the UK and emphasises the importance of ensuring that UK travellers receive high quality advice from clinics like Well Travelled Clinics before travelling to ensure that they can protect themselves against disease".
Dr Nick Beeching, Clinical Director of the TIDU at the Royal and senior lecturer at LSTM said: "Working closely with the Well Travelled Clinics and LSTM, we provide diagnostic and treatment services for patients with a wide range of unusual diseases, some of which can rapidly be fatal. These require highly specialist knowledge for early diagnosis and correct management and provide a fascinating challenge for the doctors, nurses and other members of our teams."
The six-part series airs on Sundays from 21st July 2013 to 25th August 2013 at 10pm on Discovery (SKY 520 and Virgin 211).