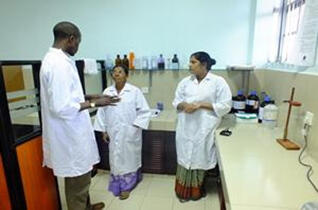 A team from LSTM's Capacity Research Unit (CRU) has recently returned from visits to Neglected Tropical Diseases (NTD) laboratories in Malawi and Sri Lanka. The visit is part of the team's capacity strengthening assessment and monitoring role in the Department for International Development (DFID) funded Centre for Neglected Tropical Diseases (CNTD), Lymphatic Filariasis programme (2012-2016).
One of the primary purposes of the visit was to monitor the indicators for strengthening laboratory capacity, which were identified during a needs assessment of the laboratory systems carried out by the CRU team in 2012. Another purpose was to update the laboratories' strategic plans to include additional activities required by the laboratory systems to support NTD elimination within the laboratories' own country and the immediate regions.
The follow-up visits included meetings with the directors and laboratory staff from NTD research laboratories and national NTD control programmes operating within the Ministry of Health in each country.
The visits to both laboratories resulted in the development of updated strategic plans for strengthening laboratory capacity. These individualised strategic plans were agreed on by all stakeholders and will act to guide the laboratories as they become autonomous, leading research and regional reference laboratories in the field of NTD.