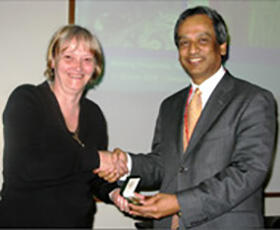 The 2009 LSTM Leverhulme Lecture was delivered on 16 March 2009 by Dr Quazi Monirul Islam MD MPH FRCOG, Director of the Department of Making Pregnancy Safer, at the World Health Organisation (WHO). Dr Islam's lecture was entitled "Saving mothers and newborn lives. It is no more development of new technology but scaling up access, coverage and quality of services to improve maternal and newborn health and survival".  Dr Islam spoke to a gathering of LSTM staff, students, alumni and invited guests about the problems that face some developing countries, highlighting what is needed to reduce maternal mortality rates and improve the quality of care at health centres and hospitals.  WHO figures show that 600,000 women globally die each year in childbirth and three million babies are born dead.
Dr Islam is a public health specialist whose career involved public health and population programmes, the Global Programme on AIDS, before joining the reproductive health programme at WHO.
LSTM's Sexual & Reproductive Health Unit, incorporating a Royal College of Obstetrics and Gynaecology International Office is increasing awareness of maternal and neonatal health and delivering sexual and reproductive health training programmes, saving lives worldwide.
LSTM hosts the annual Leverhulme Lecture series thanks to the generosity of the late Rt Hon Viscount Leverhulme.
-ends-
For further information contact
Alan Hughes, Communications Manager
Office:    +44 151 705 3308
Email:     a.p.hughes@liv.ac.uk