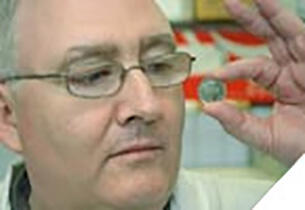 A Liverpool scientist is to lead a new European initiative in the search for drugs which could save millions of lives.
Professor Steve Ward, deputy director of the Liverpool School of Tropical Medicine, has been awarded 17.5million Euros (just over £10m) by the EU Commission to undertake a five year programme of research specifically aimed at discovering and developing new drugs for poor people with malaria in developing countries.
This European grant brings the total of investment in the world famous school in recent months to nearly £60 million. This includes £18 million of public funding for a new Centre for Tropical and Infectious Diseases and nearly £29 million for malaria research from the Bill and Melinda Gates Foundation. The EU funded programme will be one of the first to be carried out at the new Centre for Tropical and Infectious Diseases on which work has just started. 
Professor Ward, a world-class tropical pharmacologist, will be the principal investigator in the new project, with the school acting as the co-ordinating centre. He said any drug would need to cost less than 10p for a full course in order to be affordable to those who need them most, including over 1million children who die of malaria every year in the developing world. 
He explained: To get this award is a huge coup for the School and for Liverpool. We will be recruiting a whole cross discipline team of scientists for this project, from parasitologists to chemists, and will work with partners in Europe. The aim is to bring together as much of the expertise that exists in Europe as we can to focus on this particular challenge. What we are trying to achieve is a virtual pharmaceutical company with a full breadth of expertise enabling us to take a drug from concept all the way through to the first in-man clinical trials and beyond.
Professor Ward said the new project was another example of Liverpool leading the field in terms of public private partnerships. 
We will be trying to take the risk out of anti parasitic drug development for the pharmaceutical companies. Developing such drugs is not profitable for them. We will do the early phase work for them so that the risks have been eliminated and then make a case for the drug industry to partner us. This is the model of public private partnerships which we have successfully established over the past few years.
Professor Ward said it was hoped that over the five years, the project would generate at least two new anti malarial drugs to go into the final stages of clinical evaluation. The new drugs would need to be safe and effective in ALL populations. 
Professor Ward was recently involved in the development of Lapdap, the first anti malarial drug for decades, but regards that as a short term and interim solution. 
Said Professor Ward: We don't have enough variability in the type of drugs we have. We need a broader range of molecules which will do the job effectively and enable us to tackle the challenge. Children are dying in Africa because they don't have access to cheap and effective drugs. Unfortunately, the mosquito parasite which causes malaria has become resistant to the most common, affordable drugs such as chloroquine. They just don't work any more so mortality from malaria is worse than it was 20 years ago. If we are successful in this, hopefully it might convince the Commission to invest more money so that we can expand our research to look at other diseases of neglect with this particular model.
Professor Ward added that one million Euros would be spent on developing capacity in the area of drug discovery and development in Africa so that scientists there could start to become more self sufficient and not be over reliant on expertise from the West.