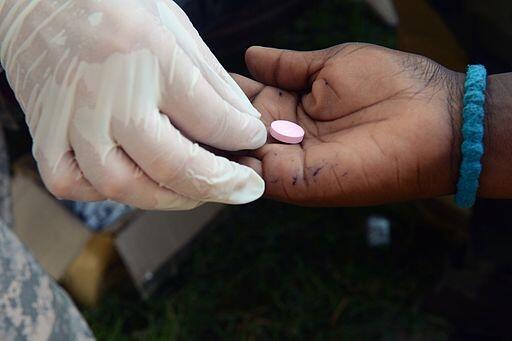 LSTM's Professors Russell Stothard and David Molyneux, along with 16 eminent researchers in the field of neglected tropical diseases (NTDs) and parasitology are calling for change in the global strategy for the control and elimination of schistosomiasis and soil-transmitted helminthiasis.
In a Personal View in the journal Lancet Infectious Diseases Professors Stothard and Molyneux, along with researchers from around the world, look at the gains that have been made since the World Health Assembly (WHA) passed a resolution in 2001 for the global scale up of mass drug administration of anthelmintic drugs, but warn that without change impact on the health and financial prosperity of the population of sub-Saharan Africa are likely to be equivalent to the recent acute endemics, including the recent Ebola outbreak.
Professor Russell Stothard said: "It has now been 15 years since the WHA declaration and the focus towards NTDs has moved on. Large scale support from governments, pharmaceutical companies and NGOs has meant that preventative chemotherapy programmes have made impressive gains in NTDs relative progress in terms of schistosomiasis and soil-transmitted helminthiasis has lagged behind and reinfection rates remain high. It vital that we re-visit the global strategy taking into account all that we have learned in the past 15 years from successful MDA programmes and complimentary interventions."
Currently the focus of the morbidity strategy is on the treatment of school aged children alone, but the adolescents, adults and younger children are often infected and can act as a hidden reservoir and contribute to reinfection. The authors call for an expansion of the current programmes as well as for the global strategy to include water, sanitation, and hygiene (WASH) interventions as well as information, education and communication (IEC) programmes, especially if elimination of transmission is to be the goal. Professor David Molyneux said: "This paper initiates a debate on new policy options as we move from a morbidity control paradigm to consider the necessary strategies for eventual elimination. It is important that LSTM and our colleagues contribute to providing that new policy as well as re-examining current strategies of preventative chemotherapy for worm diseases as we seek to continue to benefit from drug donations and recognise the needs of other vulnerable groups besides school age children."
Professor Stothard, also Director of the COUNTDOWN Consortium, continued: "By airing our shared perspectives on equity and access, this article is firmly in line with key studies being undertaken by COUNTDOWN in Cameroon and Ghana testing feasibility. Collectively, this builds a solid foundation for initiating much needed changes in national and international guidelines and positions our implementation research at the highest level for future uptake at WHO policy programming".
You can read the full article here.