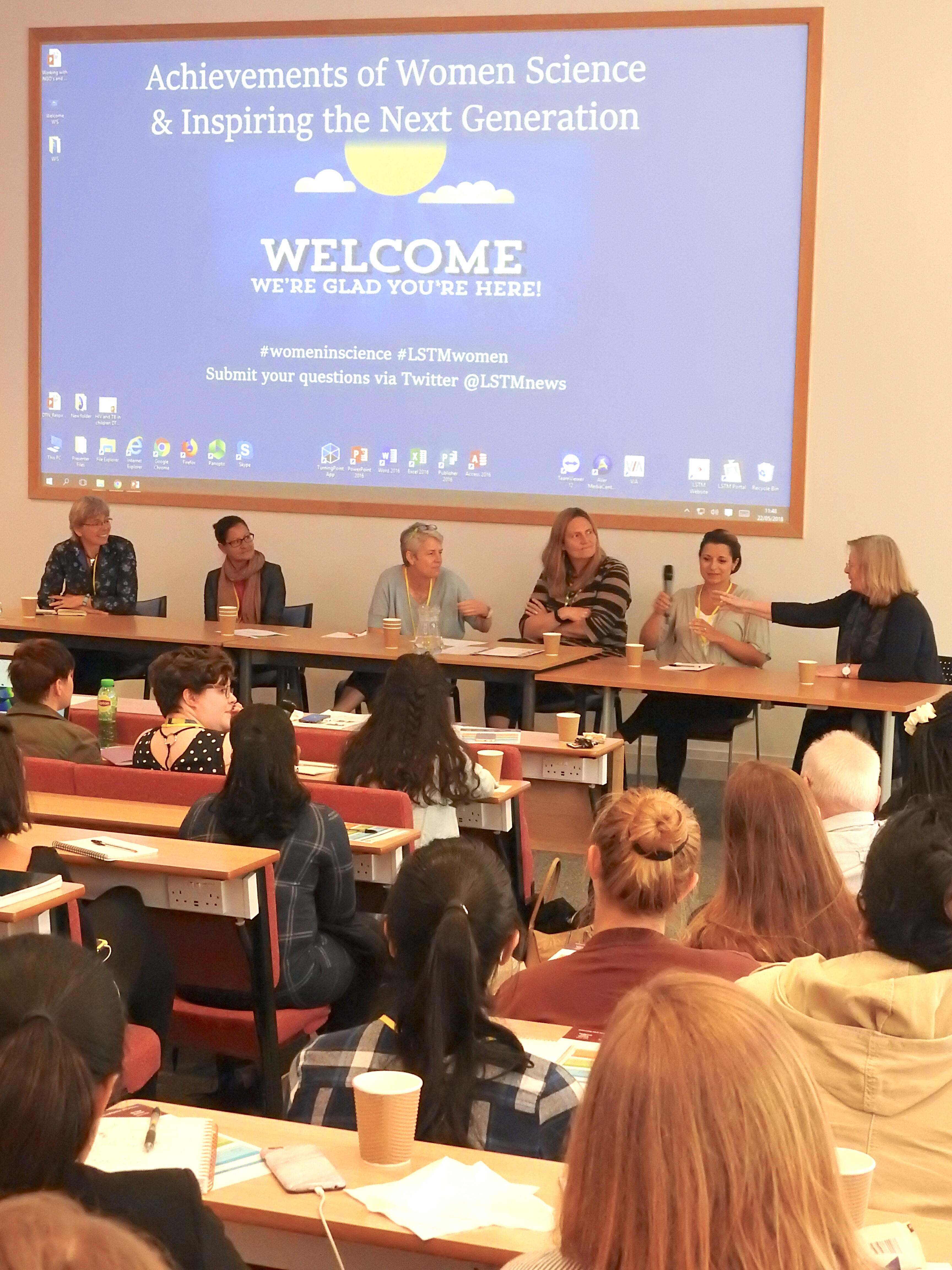 LSTM's first Women in Science Symposium, celebrating the achievements of women in science and inspiring the next generation of researchers, has taken place.
The symposium was organised by PhD students Vera Unwin and Victoria Austin, along with colleagues. It brought together academics and researchers from LSTM and collaborators from various scientific disciplines, including the Universities of Glasgow and Oxford as well as a live online chat from the University of Liverpool's Antarctic expedition. With sessions split across the themes of academia, industry and "stomping out stereotypes" the audience listened to a series of talks followed by panel discussions.
Panellists include LSTM's Professors Hilary Ranson, Sally Theobald and Nynke van den Broek along with representatives from product development partnerships and industry. The day also featured PhD students talking about their experience in academia so far. The day gave researchers an opportunity to look at the various opportunities available both inside and outside of academia as women at the top of their fields discuss the challenges they have faced and overcome and their career highlights so far.
"We are hoping that this day will celebrate the achievements of women who have made great strides within their disciplines." Said organiser Vera Unwin: "Highlighting the impact that women have had on science and addressing some of the problems faced. That way we aim to encourage the next generation of researchers to tackle gender inequity issues and celebrate excellence in all its forms."
The day was fully subscribed with around 160 delegates coming from LSTM as well as other local institutions and organisations, during which they heard LSTM's Professor Sally Theobald speaking about the importance of gender equity globally, but also celebrating the roles of women in leadership in the most challenging circumstances. Sally was followed by LSTM's Professor Nynke van den Broek who stressed the importance of women believing in themselves and using their voice during their careers. LSTM Director, Professor Janet Hemingway, closed the day with a prerecorded speech.
Organiser Victoria Austin said: "The day has been extremely successful with people making pledges and putting forward ideas on how change can be fostered within their fields. It has been an exciting gathering of people and we hope that these insightful conversations can continue at our PGR social this evening and that the event can be repeated next year."
The event was sponsored by the Biochemical Society and the HPRUezi.