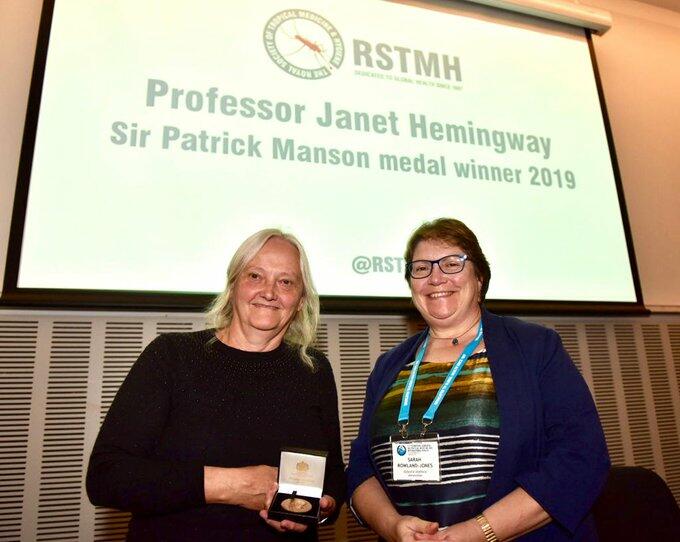 Awarded tri-annually since 1923, Professor Hemingway becomes the first woman to receive the medal and she does so as a joint recipient along with Oxford University's Emeritus Professor of Tropical Medicine, Dr David Warrell.
Professor Hemingway served as LSTM's Director between 2001 and 2018 and has dedicated her professional life to alleviating human suffering through the study if insect transmitted human diseases, most notably via the malaria transmitting mosquito.
After having received the medal from RSTMH President Dr Sarah Rowland-Jones, Professor Hemingway said: "I am extremely pleased to have become the first woman to receive this prestigious  award - it really is like standing on the shoulder of giants. I learned a long time ago not to be afraid of taking on those large challenges, I think if you make a decision about where you want to go, you will be amazed at how far you can get."
Whilst serving as LSTM's Director Professor Hemingway was the first CEO of the Bill and Melinda Gates funded Innovative Vector Control Consortium (IVCC), which she initiated. The product development partnership was created in 2006 to stimulate the development of new public health insecticides for malaria and dengue control with an initial $50M investment from the Foundation.
She has been the recipient of many honours and awards throughout her career including honorary doctorates from Sheffield University, the Universities of Warwick and Chester as well as an Honorary Fellowship from the Faculty of Public Health. Inaugurated as a Fellow of a number of academies she was elected as a Foreign associate of the National Academy of Sciences, USA in 2010 and was inaugurated as a Fellow of The Royal Society in 2011. She was made a Commander of the British Empire (CBE) for services to the Control of Tropical Disease Vectors in 2012.
As she stepped down as Director, LSTM initiated the Hemingway Fellowship in her honour. Funded through the generosity of donors the three-year fellowship will look to recruit an early career researcher to work within the Department of Vector Biology and to have mentoring from Professor Hemingway. Applications are now open for inaugural Fellow and you can learn more and apply here.