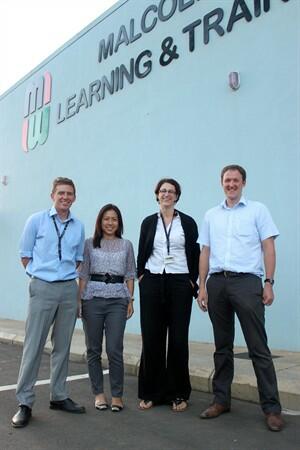 Wellcome Trust awards over £750,000 to Centre to support young, talented scientists in global health
Liverpool, 30 April 2013 - The Wellcome Trust Tropical Centre, a longstanding joint initiative of the University of Liverpool (UoL) and Liverpool School of Tropical Medicine (LSTM), is pleased to announce that it has been awarded £763,846 to become the Wellcome Trust-Liverpool-Glasgow Centre for Global Health Research in partnership with the University of Glasgow. The Centre will harness the strong institutional commitments to global health in Liverpool; Glasgow and our low and middle income partners in Malawi, Ecuador and India, to capitalise on previous successes and expertise. The new Centre will be directed by Professor David Lalloo of LSTM and is due to be launched at the beginning of September 2013 with a number of events in Liverpool, Glasgow and Malawi
The new Centre will build on the Wellcome Trust Tropical Centre's 17 years experience of supporting researchers in tackling research questions of public health importance in environments where disease burdens are highest.  This will be combined with world leading expertise from Glasgow, includingthe Wellcome Trust Centre for Molecular Parasitology, which over the past 26 years has developed a world class track record in basic research in tropical parasitological research and applied immunology, ecology, molecular cell biology and polyomics to both parasites and their vectors.
The joint Centre for Global Health Research aims to promote excellent science, build capacity and drive strategic research collaboration in global health by supporting researchers from the UK and low and middle income countries to become independent researchers and future leaders in global health.  The Centre will support their academic careers by providing them with ongoing mentorship, high quality research opportunities and access to cutting edge laboratory science.  Collaboration with our international partners, across a wide spectrum of global health disciplines will allow research to be conducted in settings with the greatest disease burden.
The Malawi-Liverpool-Wellcome Trust Clinical Research Programme (MLW) is an internationally-recognised centre of research excellence and research training in partnership with the University of Malawi College Of Medicine.  Many of the Centre's previous 60 research fellows have spent time at MLW before returning to academic positions in Liverpool.  The new Liverpool-Glasgow Centre builds on this robust partnership and expands the Centre to include theNational Institute for Mental Health and Neurosciences (NIMHANS) in Bangalore, India and a Wellcome Trust fundedprogramme in Quito in Ecuador.  These new international links will allow the Centre to expand its activity and support into other continents.
The Centre will be one of the Wellcome Trust's five Centres for Global Health Research sharing the £3m that the Wellcome Trust has committed to these Centres over the next five years. 
Contact details:
For further information about the Wellcome Trust-Liverpool-Glasgow Centre for Global Health Research please contact
The Centre Manager in Liverpool - Kate Jones at katy.jones@liv.ac.uk or on +44 151 794 5544
The Glasgow based Administrator – Alexandra MacKay at Alex.Mackay@glasgow.ac.uk or on + 44 141 330 2684
Diderik van Halsema, Liverpool School of Tropical Medicine Press Office on +44 151 705 3104
Samantha Martin, Senior Press Officer, University of Liverpool on +44 151 794 2248

 
Institutional descriptions:
Liverpool School of Tropical Medicine (LSTM) has been engaged in the fight against infectious, debilitating and disabling diseases since 1898 and continues that tradition today working in over 60 countries worldwide; a research portfolio in excess of £200 million and a teaching programme attracting students from over 50 countries. www.lstmliverpool.ac.uk
The University of Liverpool is one of the great centres of research, knowledge and innovation. Our pioneering reputation attracts students, experts and partners from around the world. Through our research, teaching and collaborations we seek to be life changing and world shaping.  With 30,000 students and 4,700 staff, the University is rated in the world's top 1% for research with a research income of £150m.  The University has 7 key 'real world' research themes, one of which is Global Health. www.liverpool.ac.uk
The Wellcome Trust Centre for Molecular Parasitology (WTCMP) was established in 1987. It is one of eight Centres created by the Wellcome Trust, as Centres of excellence conducting work of major international significance within designated fields of study. The focus of the Centre is to make a large impact on parasitic diseases, by gaining understanding of basic processes in parasites, and exploiting them to develop new approaches to disease control. The aim is to develop the field of parasitology, through strong contribution to international research and training, in particular with disease-endemic countries, and through dissemination to the public.www.gla.ac.uk/researchinstitutes/iii/wtcmp/
Since its inception in 1995, the Malawi-Liverpool-Wellcome Trust Clinical Research Programme has maintained partnership with College of Medicine at the University of Malawi, the University of Liverpool through the Liverpool School of Tropical Medicine and our major funder the Wellcome Trust in order to achieve the following mission and vision: To conduct biomedical research and also provide research training for clinical and laboratory scientists from Malawi and abroad. http://www.mlw.medcol.mw/
The Wellcome Trust is a global charitable foundation dedicated to achieving extraordinary improvements in human and animal health. It supports the brightest minds in biomedical research and the medical humanities. Their breadth of support includes public engagement, education and the application of research to improve health. The Wellcome Trust is independent of both political and commercial interests. http://www.wellcome.ac.uk 
-Ends-