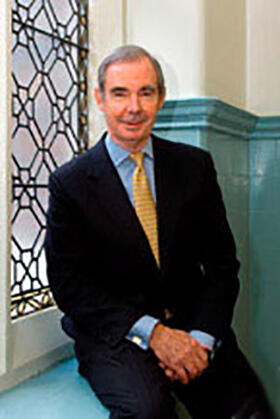 James Ross was formally elected Chairman of the Liverpool School of Tropical Medicine at its Annual General Meeting today. Having joined the world of industry with BP after graduating in the early 1960s, he became Managing Director of BP and Chairman and Chief Executive of BP America. After leaving in 1992 he led other sectors of industry, including Littlewoods in Liverpool as Chairman from 1996 until 2002. During that time he developed a lasting friendship with the City and its people.
Speaking after presenting Director Janet Hemingway with a certificate to mark LSTM's accreditation to Investors in People, achieved earlier this year, James said: "IIP is an external recognition that the organisation is in good shape, and thanks for that must go to the quality, dedication and enthusiasm of its people, the guidance of Rosemary Hawley and the inspirational leadership of Janet Hemingway.
"I am very honoured to be asked to be Chairman of this world class institution and it is great to be back in Liverpool at such an exciting time for both LSTM and the City. I have fond memories of my time here and I very much look forward to helping LSTM achieve its full potential in the three dimensions of research, education and delivery as a truly global powerhouse in tropical medicine and international health."
Rosemary Hawley MBE, outgoing Chairman, paid tribute to his business experience and his links with Liverpool: "It is a great pleasure to be handing over to someone with such a distinguished career in international business, excellent knowledge of the higher education sector and experience of working and living overseas as well as a person who has such great respect for Liverpool. In my twelve years of involvement with this wonderful institution I have seen it grow and flourish into a truly international centre of excellence. I have no doubt that James will prove an invaluable asset to LSTM as its international renown continues to increase."
Director, Janet Hemingway said: "James is an industrialist with over 40 years experience of international business and I very much look forward to his help and support in keeping LSTM at the forefront of improving health in the developing world."
-ends-
For further information, please contact:
Alan Hughes, Communications Manager
Office: +44 (0)151 705 3308
Mobile: +44 (0)7759 243969 
Notes to Editors
James Ross was educated at Oxford, where he was an Open Exhibitioner of Jesus College, he gained an honours degree in Modern History In 1962. He joined BP in 1962 and during a thirty year career rose to become Managing Director and Chairman and Chief Executive of BP America.
After leaving in 1992 he spent twelve years as successively Chief Executive of Cable and Wireless, Chairman of Littlewoods and Chairman of National Grid.
He was the recipient of honorary doctorates of law at the Universities of Liverpool and Manchester in 2000.
In the mid 1990s, he chaired the Board of the Manchester Business School. He was appointed Chair of the Leadership Foundation for Higher Education in December 2003.
He is currently a director of Prudential, of McGrawHill and Datacard in the US and of Schneider Electric in France. He serves on the Advisory Council of the Institute of Business Ethics and the board of the Marshall Aid Commemorative Commission. He is also a Trustee of the Council for Industry and Higher Education.