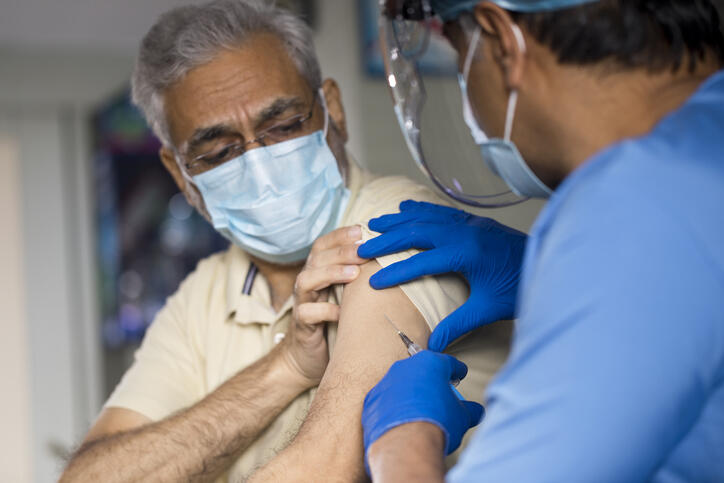 An innovative programme that leverages global health learnings and is driven by community-led innovation teams has launched with an ambition to halve levels of vaccine inequity in Liverpool.
The Liverpool Vaccine Equity programme for Liverpool City Council brings together partners including iiCON: Infection Innovation Consortium, Liverpool School of Tropical Medicine (LSTM), Unilever, and Liverpool Primary Care Network. It has been developed to support people locally with positive, practical interventions to overcome barriers to vaccine uptake. 
Liverpool has one of the highest levels of vaccine hesitancy in the UK, with the fifth lowest uptake of the first dose of the vaccine within the eight English Core Cities. Only 70 per cent of people aged 18 and above received their first dose of the COVID vaccine, with stark disparities in vaccine uptake across different demographic groups.
Due to significant inequalities in vaccination uptake across Liverpool, herd immunity has not been reached, driving onward transmission and ongoing pressure on hospital services. The programme's ambition is to halve the gap in vaccine uptake between the highest and lowest uptake figures in the city.
Multidisciplinary Community Innovation Teams from the Central Primary Care Network have been formed and trained to support the delivery and rollout of the programme within their communities. These groups include health providers and vaccination hubs, community mobilisers from target populations, existing community champions and trusted messengers including micro community-based influencers.
Miriam Taegtmeyer, Professor of Global Health at Liverpool School of Tropical Medicine, who is leading the programme, said: "We are confident that lessons from other countries can be adapted and implemented to combat the issue of vaccine hesitancy in Liverpool. Engaging people locally and working at a grassroots level to provide context-specific, local solutions that are needed, driven and owned by the communities most affected is key.
"We are using methods that are tried and tested in both rural and urban settings for improving the equity of uptake of health services. Our approach addresses both supply and demand side factors to increase trust in the system and is based on the analysis and use of local data to identify problems and come up with local solutions.
"Our model, which involves training multidisciplinary community innovation teams within their local areas to deliver impactful programmes that drive engagement with health interventions, has proved to be incredibly effective. Bringing together teams and developing capacity at a local level is at the heart of our programme and we look forward to seeing this model replicated to tackle other key public health issues to support and reach key target groups across communities."
Professor Matthew Ashton, Director of Public Health for Liverpool said "The health, social and economic impact of vaccine inequality and hesitancy is well documented globally, so this project has been established to utilise the international experience of LSTM and to better understand the hesitancy which exists in our own communities – especially those with the lowest take up and highest levels of deprivation.
"We know there are many different reasons for not being vaccinated, and that there is no 'one size fits all' solution – however we believe that developing creative local solutions which are driven and owned by those communities most affected are key to increasing vaccine uptake."
The Liverpool Vaccine Equity programme has been piloted across Liverpool's Central Primary Care Network (PCN) area. It is being expanded to three other primary care networks with the highest levels of deprivation in Liverpool. Target populations include white males aged under 50 years old, women of childbearing age, and unvaccinated BAME populations across Liverpool.
Through the programme, academics in social science and health systems with experience addressing inequalities and delivering public health interventions in some of the most deprived communities in the world have come together with primary health care teams, industry representatives, and social marketing experts to support public health and behaviour change leaders in Liverpool City Council.
Prof Janet Hemingway, iiCON Director, said: "We're delighted to be working with partners to deliver this innovative and impactful programme that draws on decades of experience and expertise working with communities in diverse settings to support health equity and vaccine uptake.
"This programme benefits from the expert insight of a range of partners who have experience creating and delivering impactful public health engagement programmes in extremely challenging settings. Collaborating and pooling knowledge to bring new perspectives to issues like vaccine hesitancy is at the heart of iiCON's ethos. This innovative programme will benefit people across the Liverpool City Region, and potentially create a new template for future engagement around vaccine delivery in the UK and beyond."