LSTM is sad to announce the death of one of our most prestigious alumni, Dr Letitia Obeng, whose work understanding the relationship between freshwater ecosystems and equitable health opportunities continues to have a global impact.
Known as 'the grandmother of female scientists in Ghana', she was the first Ghanaian woman to graduate with a bachelor's degree in science and the first to be awarded a doctorate in science.
Dr Obeng's association with Liverpool began in 1962, when she was invited to study for a PhD in freshwater sciences at LSTM by then Dean, Professor Brian Maegraith. She and her three children sailed from Ghana to Liverpool, where her studies focused on black fly - which breeds in fast-flowing fresh water and carries the –parasite that causes river blindness in large parts of West Africa.
Three years of intensive study at LSTM introduced her to, "the fascinating and totally amazing world of freshwater" and began a lifelong interest in freshwater ecology and associated health issues. Each Saturday, she took her children to the countryside around Lake Bala, North Wales, to gather water samples from rivers. Her love of the countryside and ecology was inspired by a childhood spent on her grandfather's farm.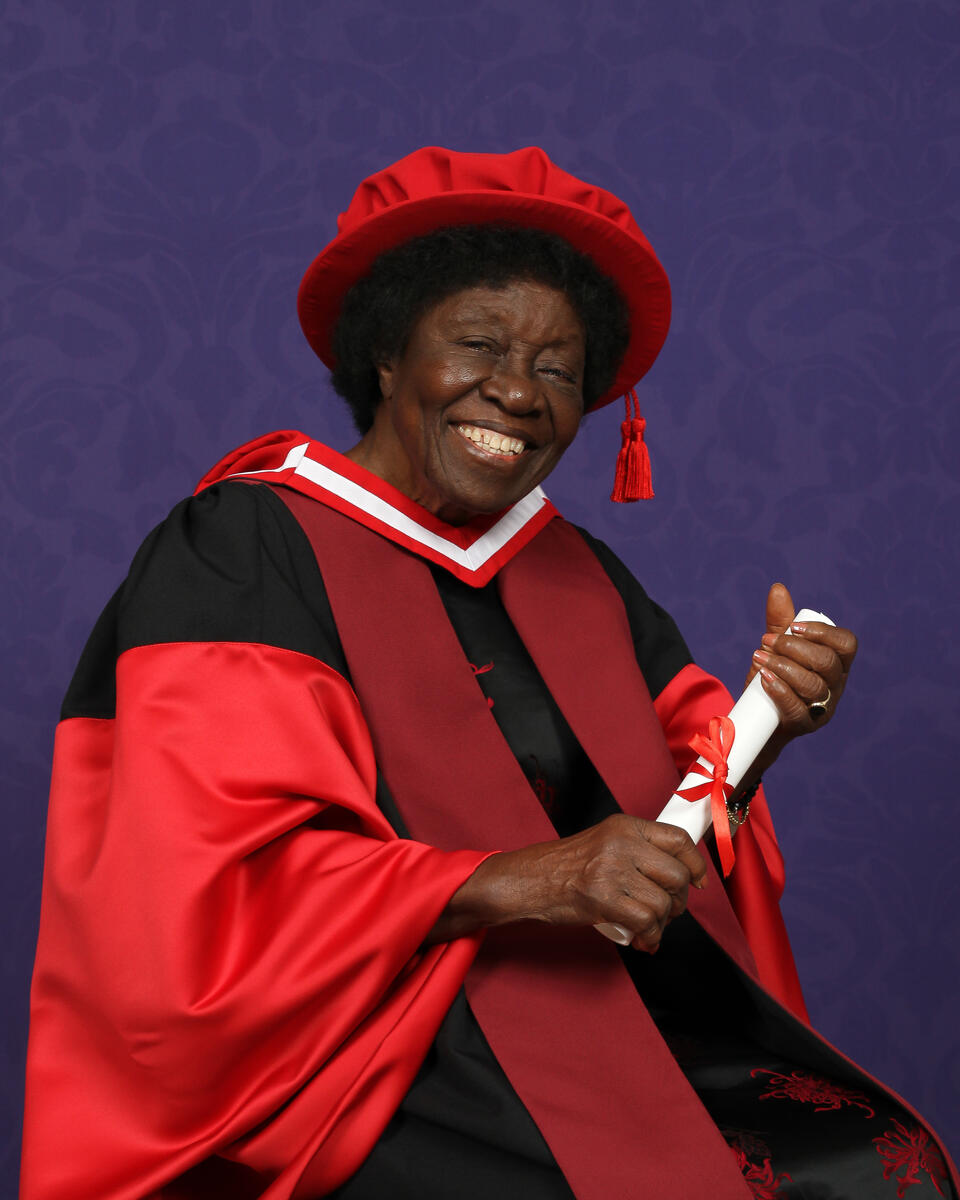 Dr Obeng has said her work at LSTM, "bonded me to the little known but amazing world of the freshwaters and to their vulnerabilities." On her return home from studying at LSTM, she said: "I felt compelled to introduce national freshwater research to support Ghana's huge man-made Volta Lake and its inland water system and I was privileged to build and direct the National Research Institute for that purpose."
 Dr Obeng's work at the Volta Lake site had long-term impacts on freshwater and ecological health in the region. Ghana's hydroelectric project had recently been launched and the River Volta dammed to create a lake that eventually covered 4% of the country. Her freshwater knowledge gave her a clear insight into potential ecological perils, arising from this large-scale project, and she lobbied for the establishment of the Institute of Aquatic Biology, which she went on to lead.
This platform gave her the scope to set in motion important monitoring, research, and studies of the country's inland water systems, including Lake Volta, helping to preserve them in a healthier state, for people and wildlife. She stayed at the institute for ten years and directed multidisciplinary research on Lake Volta, producing many studies and publications on invertebrates and aquatic weeds.
In 1974 she was recruited by the United Nations Environment Programme (UNEP) as the officer in charge of water and soil, in the Global Environment Programme and she was appointed Director of the UNEP Regional Office for Africa and UNEP's Representative to Africa, In 1980. Dr Obeng was the first female President of the Ghana Academy of Arts and Sciences and was awarded Ghana's highest honour: The Star of Ghana.
Her relationship with Liverpool was renewed when visited LSTM with her family as part of her 90th birthday celebrations, and she was later the recipient of an honorary degree at LSTM's inaugural graduation in 2018. Her international legacy and reputation remains strong and in 2022 a meeting room at the Novotel in Liverpool's new Paddington Village, in the heart of Liverpool's Knowledge Quarter, was named after her.
LSTM's Director, Professor David Lalloo, said: "Letitia was a true inspiration, a trail blazer in her field and LSTM is very proud to have had her as part of our alumni family. She was an inspirational woman who broke down barriers, paving the way for women to succeed in science. Her contributions to the world of science and global health cannot be overstated and she will be sadly missed. My thoughts are with her many friends and family."
Letitia Obeng is survived by her three children.