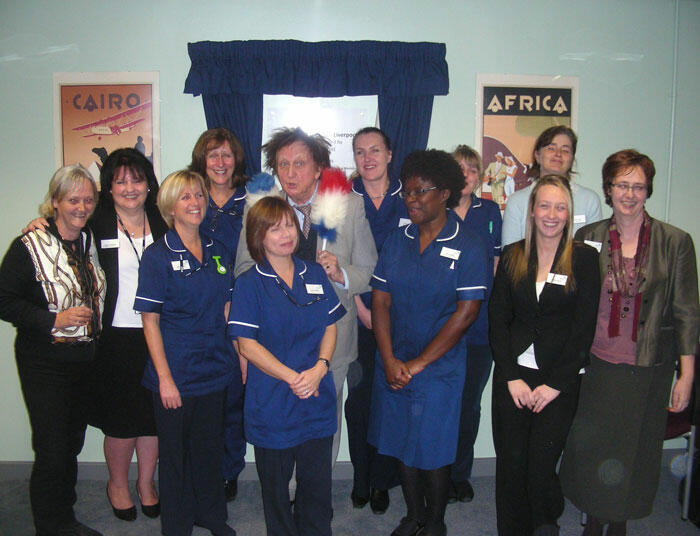 Ken Dodd OBE has officially opened the new LSTM Well Travelled Clinic in Anson Street.  The new clinic replaces the existing facility within LSTM's main buildings and represents a long term commitment by LSTM to WTC and the travel heath of the north west region.
Philippa Tubb, Managing Director of Well Travelled Clinics Ltd said: "We had outgrown our original home and needed larger, more modern facilities to continue to provide the best service to our clients.
"As we expanded our range of services and extended our opening times to better suit both holiday and business travellers, relocation became our best option.   Last year we saw about 10,000 clients - these new facilities give us the capacity to increase that to 15,000.
"I'm delighted that we've committed to keeping our world class expertise in tropical medicine and travel health right here in the city centre close to LSTM.  The 'Trop Shop' has been a leading light in the field of travel health for almost 50 years, so we wanted another Liverpool star to do the honours for us.  As a regular traveller and long time client, Ken very kindly agreed.
The new clinic has more consulting rooms, a large comfortable waiting area, full disabled access and provides a range of new services.  "We still offer travel advice, vaccinations and malaria prevention medicine to holidaymakers and business travellers but we can now offer pre and post-travel medicals, blood grouping, seasonal flu vaccinations and a range of occupational health services to local companies," Phil added
-ends-
For further information, please contact;
Alan Hughes, Communications Manager
Office: +44 (0)151 705 3308