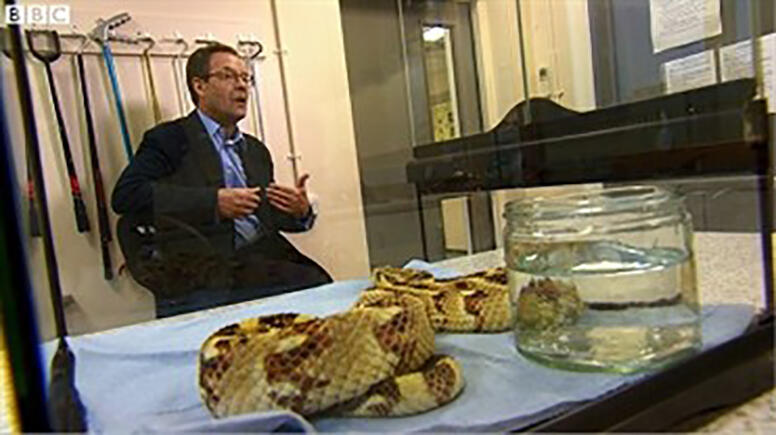 Scientists from LSTM have been featured on the BBC website today about research to find a universal anti-venom for all of the deadly snakes in sub-Saharan Africa.
The project, led by the head of LSTM's Alistair Reid Venom Unit, Dr Robert Harrison, will develop a single, affordable, non-cold chain antivenom for the whole region and has been made possible following a grant awarded last year by the Medical Research Council (MRC). It is hoped that the this 'universal' antivenom could help prevent many of the 32,000 deaths due to snakebite in region every year as well as the 96,000 people annually who are left permanently disabled after surviving snakebite.
"There are over 20 species of deadly snakes in Sub-Saharan Africa and doctors often rely on the victim's description of the animal to help them decide which treatment to administer," says Dr Harrison, "The preferred option therefore is to give a broad-spectrum, or poly-specific, antivenom to cover all the possible snake species that could be responsible. Because these treatments are generally not very effective against any one species, the doctor therefore administers many vials. However, each dose carries a risk of serious side effects and this risk increases with each additional vial."
The current need to give many vials to treat a patient not only increases the risk of side-effects, but often makes treatment unaffordable to the rural, impoverished subsistence farmers that are at greatest risk.
The current limitations to multi-species antivenoms arise from the process used to make them. Venom is extracted from several species before being injected in low doses into horses or sheep. This does not cause illness in the animals bit induces an immune response causing the animals to produce antibodies. These antibodies are then purified from the blood to create antivenom.
Using multiple snake species, however, means that the animals only make a small amount of antibody to any one species, and the resulting antivenom is quite weak.
The research team at LSTM, and their collaborators at the Instituto Clodomiro Picado, San Jose, Costa Rica and the Institute de Biomdedicina de Valencia, Spain, have devised a plan to vastly improve the potency of poly-specific antivenom using a new technique called 'antivenomics' which will significantly expand the effectiveness of the antivenom, covering all of the most medically-important snakes of sub-Saharan Africa.
See also latest MRC press release by clicking here.