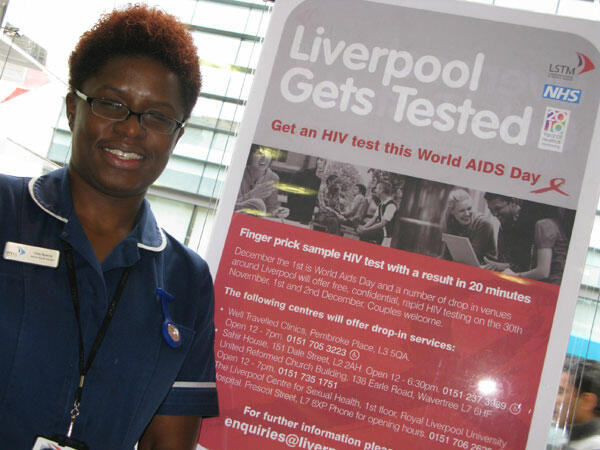 Liverpool School of Tropical Medicine (LSTM) is leading a partnership with the Primary Care Trust and local clinical services to offer a free, while you wait HIV testing service to anyone in Liverpool between 30 November and 2 December.  No appointment is necessary and the result is available in just 20 minutes.
Coinciding with World AIDS Day on 1 December, this initiative is part of a global effort to tackle HIV.  LSTM already leads a successful programme to increase the HIV testing uptake in at-risk groups through a community point of care rapid testing (POCT) approach.  More than a thousand Liverpudlians have been tested in the last year, with a similar campaign to raise awareness around World AIDS day 2009.
On the success of the 2009 campaign, LSTM's Dr Miriam Taegtmeyer said: "Over 150 people had a rapid HIV test on World AIDS Day last year and a further 900 at different venues throughout the year that followed.  Over 98% of people tested negative and were able to reassure themselves.  Those who tested positive were able to access clinical and other support services to enable them to get treatment and remain healthy."
Zac from Asylum Link Merseyside, who recently took the test, said: "The test was great, very quick and didn't hurt a bit.  I would definitely have the test again and recommend it to others."
Pauline Jelliman, Specialist HIV Nurse for NHS Liverpool Community Health, said: "Being diagnosed with HIV should not be perceived as a 'death sentence'.  Many people are living with HIV and leading normal lives.  However, it is vital that HIV is diagnosed early to enable the person to make lifestyle choices, be effectively monitored and offered treatment which will keep them well.  We would urge anyone who fears they may have been exposed to HIV in the past, or recently, to think about getting tested so that they can either put their mind at rest if the test is negative or access help and support if it proves positive."
Testing for HIV and all sexually transmitted infections is both free and confidential.
On 30 November, 1 and 2 December the following centres will be offering a drop in service:
Well Travelled Clinics, Pembroke Place, L3 5QA, between 12 noon and 7pm.
0151 705 3223
Sahir House, 151 Dale Street, L2 2AH, between 12.30pm and 6.30pm.
0151 237 3989
United Reformed Church Building, 138 Earle Road, Wavertree, L7 6HF, between 12 noon and 7pm.  0151 735 1751
The Liverpool Centre for Sexual Health, 1st floor, Royal Liverpool University Hospital, Prescot Street, L7 8XP. Please phone 0151 706 2620 for opening hours. 
-ends- 
For further information, please contact: 
Alan Hughes, Communications Manager
Office: +44 (0)151 705 3308 
Notes to Editors 
World AIDS Day website
Liverpool School of Tropical Medicine
LSTM is a multi-disciplinary organisation concerned with research, teaching, technical assistance and clinical care in the fields of tropical and infectious diseases. Founded in 1898, LSTM has been at the forefront of the fight against infectious, debilitating and disabling diseases for more than a hundred years and continues that tradition today with a research portfolio in excess of £159 million and a teaching programme attracting students from over 70 countries.
Well Travelled Clinics
WTC is a travel clinic company owned by LSTM. It is a centre of excellence, providing a private pre-travel advice, holiday vaccinations and malaria prophylaxis service to the travelling public of the northwest of the UK and a number of UK based corporate clients. All profits made are returned to LSTM to further research into tropical and infectious diseases.
www.welltravelledclinics.co.uk/home
NHS Liverpool
NHS Liverpool Community Health is at the heart of the delivery of healthcare within the communities of Liverpool and Merseyside. The organisation delivers healthcare and health promotion to the 450,000 residents of the city from over 60 community locations. Its core services include District Nursing, GPs, Community Matrons, School Nurses, Health Visitors, Dental Services, Walk-in Centres and Sexual Health.
www.centralliverpoolpct.nhs.uk/Your_Services/Commissioned_Services/NHS_Liverpool_Community_Health.aspx
Sahir House
Sahir House is a Multicultural Support and Information centre offering a wide range of services to individuals and families living with or affected by HIV on Merseyside and have recently relocated.