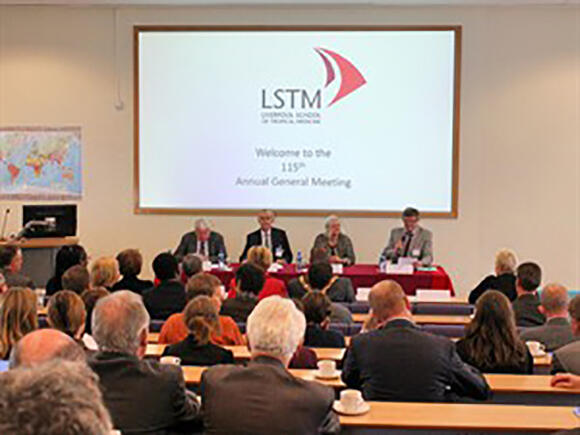 Today LSTM's 115th Annual General Meeting (AGM) has taken place. Chaired by LSTM's President Sir Richard Evans, LSTM's vice-presidents, the Board of Trustees and members along with staff and invited guests came together to celebrate the achievements of the last 12 months; adopt the Annual Report and Financial Statements of the academic and financial year 2013 - 2014 and discuss the next phase in LSTM's future.
During the meeting Board of Trustees chairman James Ross OBE, welcomed the audience and making reference to LSTMS's past and founding years he said: "Over 100 years later, I would say that the present LSTM owes its continuing success – and indeed a newly achieved degree of independence – to the flair and strength of purpose of our remarkable team of researchers, in raising funds for their vital projects". He also announced the recruitment of Michael Lurie as LSTM's Director of International Education who will start in January 2015.
LSTM's Director, Professor Janet Hemingway CBE, talked about the role that LSTM had played in global healthcare in the last year touching on LSTM's contribution to the combatting the current outbreak of Ebola in West Africa, not only the role of graduates and clinical staff working in the field but the staff of the Well Travelled Clinic providing medical consultations and vaccinations to UK volunteers being deployed, and the clinical staff here who are part of the mechanism ensuring preparedness for any cases arriving in the UK. She also warned that the focus on Ebola, while clearly of the upmost importance, should not diminish our continuing focus on Malaria and NTDs, affecting millions of people in some of the world's poorest countries. Looking forward, she spoke of the official opening of the Wolfson Building, which will take place in December 2014, housing LSTM's Centre for Maternal and Newborn Health; the Centre for Neglected Tropical Diseases; IVCC and the Well Travelled Clinic.
Members officially ratified the 2013/14 Annual Report and Financial Statements – both are available here.
Following the formal part of the meeting Professor Paul Garner gave a presentation to all present entitled: Evidence synthesis for global health: ensuring sound policies and investment. After the presentation members and guests were given a tour, including a demonstration by the serious gaming team of a pilot version of a game designed to encourage key in-country decision makers to make data driven decisions regarding vector control issues. This was followed by a tour of LSTM's Clinical Diagnostic Parasitology Laboratory, an accredited clinical laboratory providing a quality diagnostic service for its clients, including NHS and private hospitals throughout the UK and Europe.