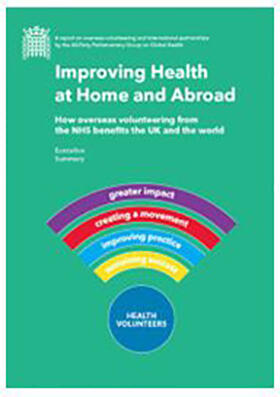 Members of LSTM's Capacity Research Unit (CRU) met with Dr Jonty Roland, Policy Director at the All Party Parliamentary Group on Global Health (APPG), late last week to discuss the Group's recent report advocating professionalization and scaling up of volunteer programmes in the NHS.
The Capacity Research Unit has worked with the Manchester Business School to submit a proposal to the National Institute of Health Research (NIHR) on maximising international volunteer programme benefits to the NHS.
'Significant UK resources are devoted to volunteering programmes through the Department for International Development and other agencies', said LSTM Professor Imelda Bates. 'Being able to demonstrate value for money is essential and our project will help to clarify how volunteering benefits the NHS and how to measure and promote these benefits.'
Dr Roland was pivotal in the production of the "Improving Health at Home and Abroad: How overseas volunteering from the NHS benefits the UK and the world" 2013 report.  The report addressed the role of NHS staff who volunteer overseas in advancing health globally and bringing new knowledge, skills and ideas back to the UK.  In view of the in-depth knowledge of the volunteering context and their benefits and challenges within the APPG on Global Health, the CRU has asked Dr Roland to join the project's advisory panel. If the proposal is successful, Dr Roland and other members of the panel will advise on the project's design, provide useful contacts and help with the interpretation and dissemination of results.