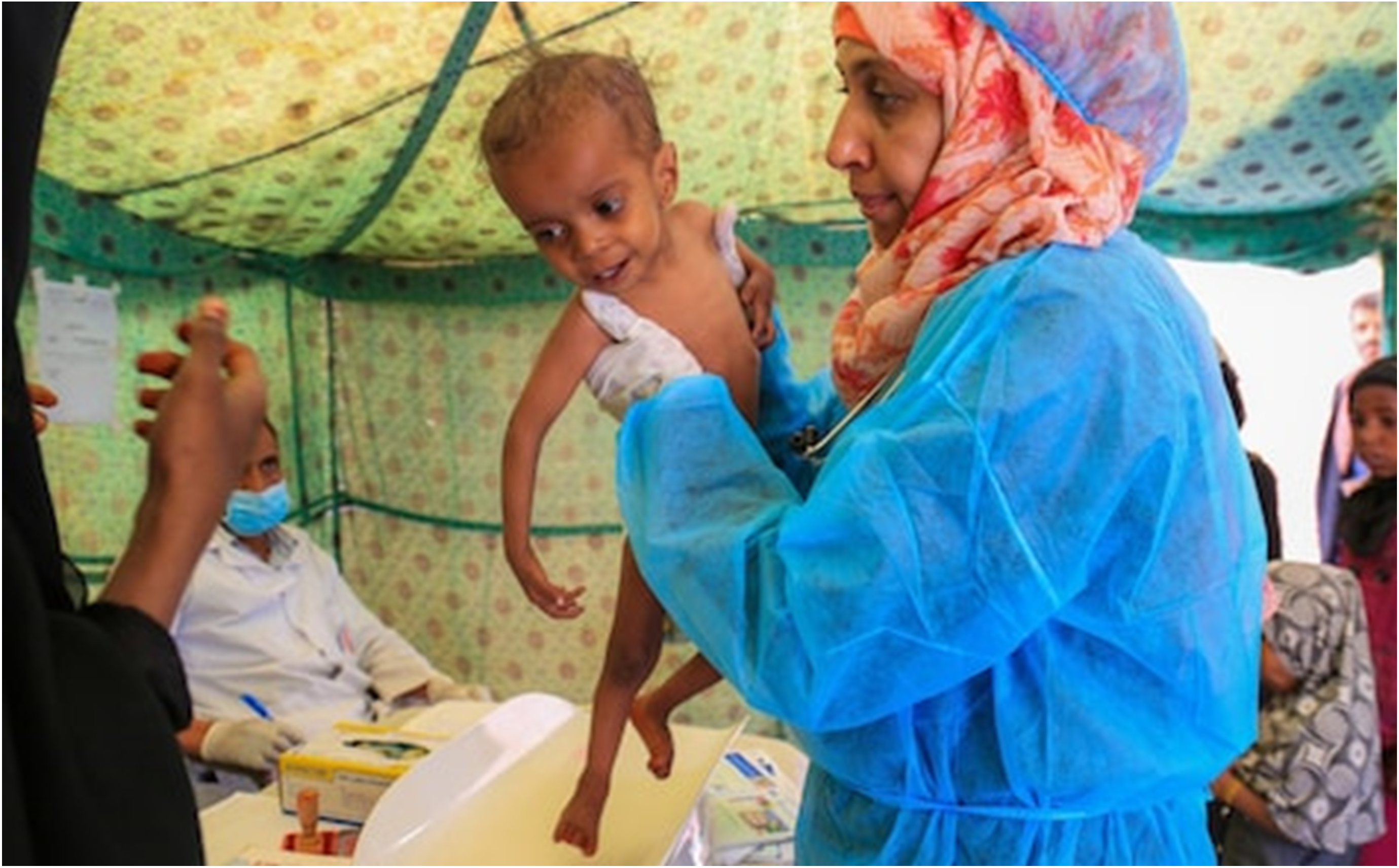 LSTM's alumna and research partner Professor Najla Al-Sonboli was recognised as a Heroine for Health this weekend at the World Health Assembly meeting in Geneva, for her tireless work in her home country of Yemen.
Nominated for the award by LSTM's Professor Sally Theobald, Professor Al-Sonboli was recognised by Women in Global Health in association with GE, who celebrated the contribution of nine Heroines for Health, presenting each with an award for leadership in their communities during a Gala Dinner on Sunday evening. Unable to leave Yemen, Professor Theobald accepted the award on her behalf.
Professor Theobald said: "Najla is a true heroine, whose work and dedication to children's health and lives is without doubt worthy of this award. She is an amazing and inspirational leader in health delivery in war. She is continuing to work with resilience and passion in the face of the many challenges war brings to a crumbling health system and children's health. She is motivating others to continue providing health services as she does, without the necessary resources, financial, medical or other, in order to save lives and bring hope to children and their families in Sana'a."  
Professor Al-Sonboli is a leading researcher and Head of Paediatrics at Al-Sabeen Hospital in Sana'a. Along with colleagues she has worked tirelessly to provide essential care to babies and children at an incredibly difficult time. War has brought extreme poverty and hardship to the population of Sana'a, with children particularly vulnerable to new outbreaks of cholera and diphtheria as well as injuries, while Al-Sabeen remains the only centre in Yemen with a functioning Paediatric Intensive Care Unit (PICU).
While at LSTM, Professor Al-Sonboli initially studied for a Masters in Tropical Paediatrics, from which she graduated in 1999. She then went on to complete the Diploma in Tropical Child Health in 2000, before going on to undertake her PhD in paediatric health in Yemen, supervised by Professor Luis Cuevas, graduating in 2006. Professor Al-Sonboli remains a close research partner of LSTM and together with Dr Nasher-Al-Aghbari (another LSTM alumnus); Profs Cuevas and Theobald have held awards from TB REACH on strategies to enhance case finding amongst vulnerable groups.
Professor Theobald is clear that her colleague is a deserving recipient of this Heroine of Health Award. She said: "Sadly war and fragility is not going away. We need to recognise, honour and learn from Najla and all the heroes and heroines that work alongside her, in continuing their efforts to bring hope and save lives. This award reflects the respect and support from the global health community for all that they do."
Other Heroines for Health recognised in Geneva this week also have close links with LSTM. Professors Sabina Rashid and Malabika Sarker from James P. Grant School of Public Health in Dhaka, Bangladesh, were both partners on the REACHOUT consortium led by Dr Miriam Taegtmeyer at LSTM. They were recognised for their inspiring work on promoting sexual reproductive health and rights.