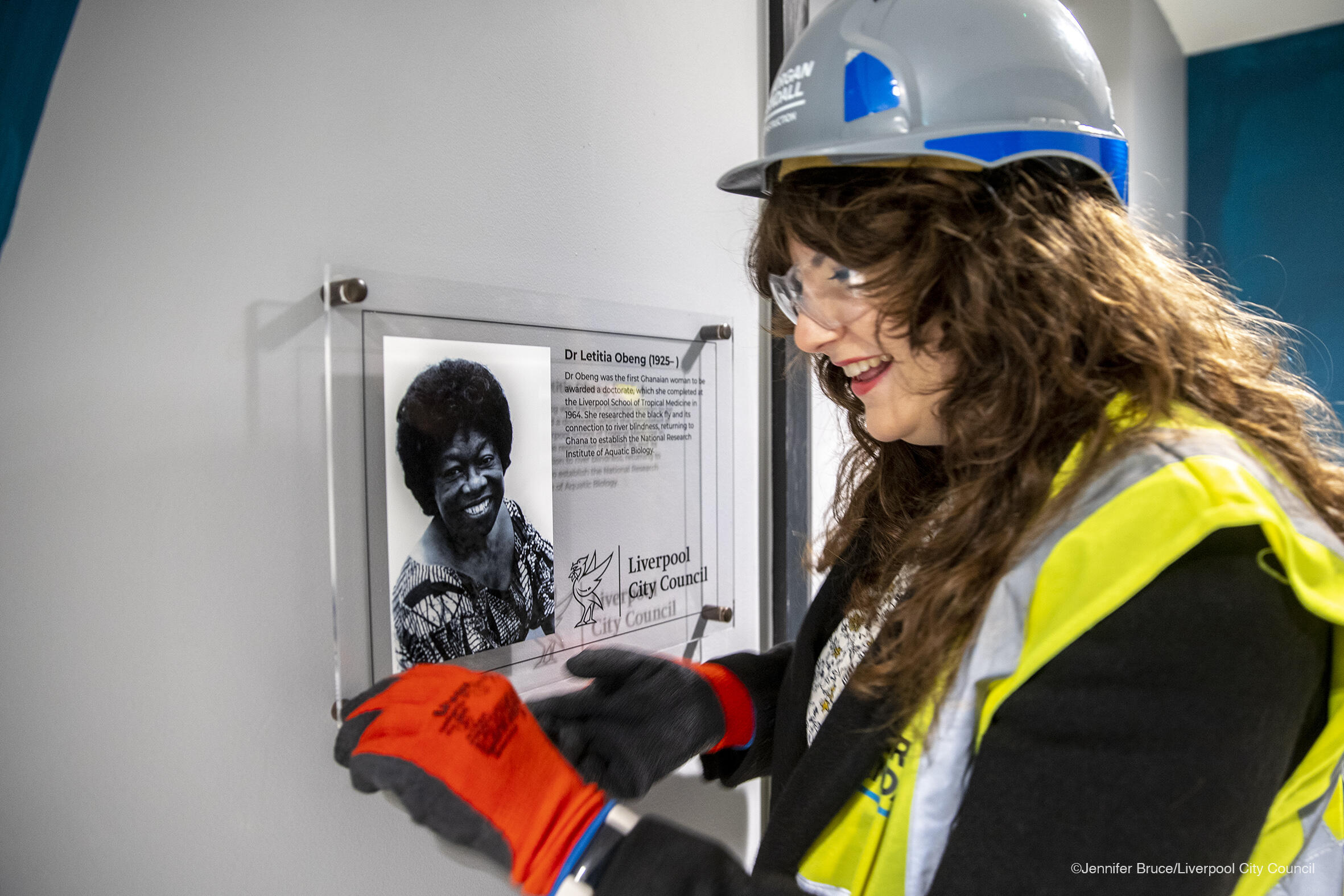 LSTM alumna Dr Letitia Obeng has been honoured as a Liverpool Health Pioneer this week when a meeting room in the 16 storey Novotel Hotel in Liverpool's Paddington Village was named after her.
The room plaques were officially installed this week honouring Dr Obeng, alongside Kitty Wilkinson and Fanny Calder, all three of which topped an online poll organised by Liverpool City Council, were voters were asked to select health pioneers from a shortlist of eight.
Each of the three have high-tech meeting rooms named after them, and the plaques were installed  on 10th January, which marked Dr Obeng's 97th birthday.
Dr Obeng was the first Ghanaian woman to gain a doctorate in the sciences. She completed her PhD in freshwater sciences at LSTM in 1964, after becoming the first Ghanaian woman to earn a BSc in zoology and a MSc in parasitology, both from the University of Birmingham. Her research in Liverpool was into the black fly and its connection to river blindness. After completing her doctorate, Dr Obeng returned to Ghana where she established and directed the Institute of Aquatic Biology for ten years. Prior to her retirement, she served as the first female Regional Director for Africa at the United Nations Environment Programme.
Dr Obeng also holds a DSc from Ghana's Kwame Nkrumah University of Science and Technology and is a fellow and former president of the Ghana Academy of Arts and Sciences, is a silver medallist and life member of the Royal Society of Arts and was awarded the Order of the Star of Ghana, the highest award given by the Republic of Ghana. She was the first recipient of LSTM's honorary Doctor of Science (DSc) degree at the inaugural graduation ceremony in 2018 after LSTM had obtained Degree Awarding Powers.
The 16-storey, 221-bedroomed Novotel Liverpool will be the highest hotel in the city and is part of the £1bn Paddington Village development that is set to become an international hub for life sciences, health care and technology. The council-owned hotel is franchised by Accor Hotels and will be managed by Legacy Hotels and Resorts on the council's behalf. It will open in summer 2022.
Cllr Sarah Doyle, cabinet member, development and economy, said: "Naming these rooms has been a real opportunity for us all to learn more about the incredible pioneers who were born in Liverpool or who came to the city to study or work. All three women have had a profound effect on the lives of potentially millions of people across the world.
"I'm particularly pleased that the public recognised the contribution of Dr Obeng, who took over a third of the votes in our poll. Dr Obeng was not only a trailblazer in her field but was and still is an inspiration both for women in science and also for the people of Ghana. I'm delighted she has given us permission to use her name."
Dr Letitia Obeng said: "I am truly surprised, honoured and humbled that the city of Liverpool wants to name a meeting room in the Novotel Liverpool Paddington Village after me! 
"I am also delighted that an alumna of the Liverpool School of Tropical Medicine will have a room named after her, honouring our famous school. 
"What a truly wonderful vision to develop this Knowledge Quarter! When I first went to LSTM to do my PhD way back in the early 60s, Liverpool was on the international music map because of The Beatles. It is my hope that Liverpool will have another international No1 with this focus on the life sciences in Paddington Village. Congratulations, and I wish Liverpool every success!"