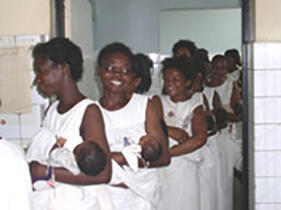 The Malaria in Pregnancy Consortium, led by the Liverpool School of Tropical Medicine, has been awarded €3.6 million by the European and Developing Countries Clinical Trials Partnership (EDCTP) to undertake research aimed at optimising the use of an antimalarial drug given to prevent malaria in pregnancy in Africa.
Malaria in pregnancy is a major cause of severe maternal anaemia and preventable low birth weight in infants, which greatly increases the risk of infant death, hence pregnant women showing no malaria symptoms are encouraged to take antimalarial drugs to prevent infection.  Intermittent preventive treatment (IPTp) has proven highly effective in reducing the adverse effects of malaria infection in pregnant women and improving birth weight (and hence survival rates) in infants.  This project is seeking to optimise the regimen of a particular drug, sulphadoxine-pyrimethamine or SP, which is used widely as IPTp and is looking at alternative approaches to IPTp.
Consortium leader and project co-ordinator Professor Feiko ter Kuile from the Liverpool School of Tropical Medicine explained the significance and future relevance of the activities:  "SP is one of the main antimalarials used for the control of malaria in pregnancy, but despite ten years of widespread use, uncertainties about the optimal dose remain. This project will allow us to explore whether pregnant women need a different dose to non-pregnant women because of changes in the way the drug is assimilated during pregnancy.
"It will also allow us to determine whether alternative drug based approaches to control malaria in pregnancy are feasible when the mother is successfully using an insecticide treated bednet to protect her from mosquito bites.  The results of this research will be used to inform WHO policy recommendations on the use of SP."
The project involves four European partners in the UK, Austria and Denmark and five African institutions in Malawi, Ghana, The Gambia, Mali and Burkina Faso.  It will include a significant element of capacity building in the African host nations, including infrastructural upgrading of five research sites in Africa and a series of short term training courses in clinical trial methodology, research ethics, statistics and research management.  Longer term training will involve MSc studentships and PhD scholarships.
The project is part of the global Malaria in Pregnancy (MiP) Consortium's five year research agenda and is closely linked with two companion MiP projects also funded by EDCTP, led by MiP Consortium members the Centre for International Health Research, Barcelona and the Prince Leopold Institute of Tropical Medicine, Antwerp.
 -ends-
For further information contact
Alan Hughes, Communications Manager
Office:    +44 151 705 3308
Email:     a.p.hughes@liv.ac.uk
Notes to editors
The Malaria in Pregnancy Consortium consists of 41 partner institutions in 29 countries around the world, joined in the fight against malaria in pregnancy and committed to improving its control and treatment in Africa, Asia and Latin America.  The Consortium, led by the Liverpool School of Tropical Medicine, was established with an initial grant of $30 million from the Bill & Melinda Gates Foundation and is also supported by the European Union.  The five year programme will directly benefit the 50 million women globally who face exposure to malaria whilst pregnant every year.