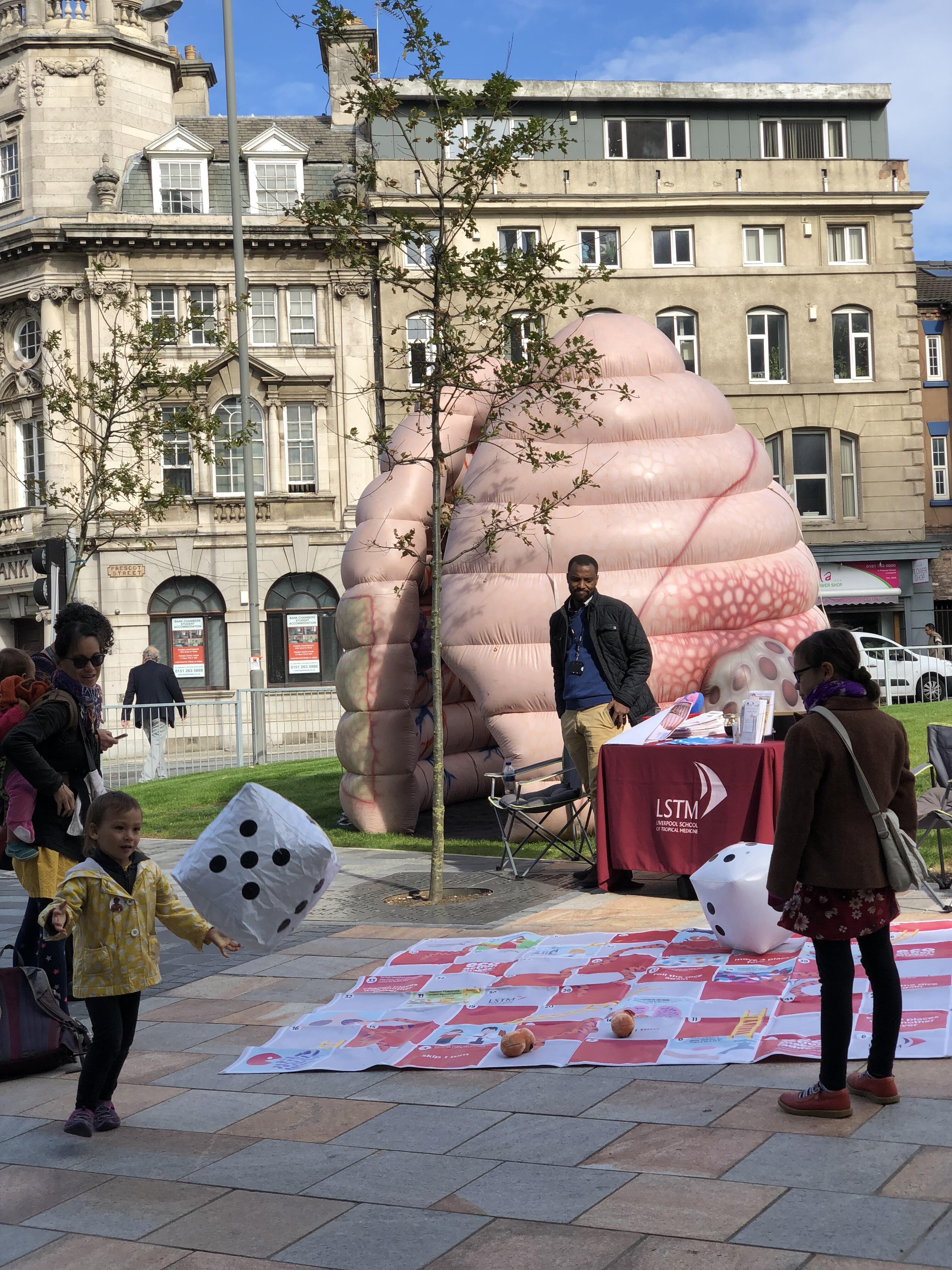 Researchers and programme staff from The International Multidisciplinary Programme to Address Lung Health & TB in Africa (IMPALA), spent the day raising awareness for Lung Health issues with a giant set of inflatable lungs positioned between LSTM and the Royal Liverpool University Hospital.
During the event, passers-by were invited to walk through the 12 feet high lungs to learn about common defects, current respiratory treatment options, and healthy & diseased lung tissue related to asthma, bronchitis, lung cancer and other lung conditions. The team behind LSTM's Accelerator Research Clinic (ARC) also set up their snakes & ladders game to communicate their research into finding new and improved vaccines for pneumonia.
The event was designed to bring advocacy to lung health issues highlighted by the 2018 Global Asthma Report launched last month. The report highlighted the need for urgent action to improve current asthma treatment and reduce deaths worldwide. Two historic UN High Level Meetings will take place in New York this week to accelerate efforts in ending Tuberculosis and Non-communicable diseases which include Chronic Respiratory diseases caused by tobacco use and air pollution.  
IMPALA co-deputy director, LSTM's Professor Kevin Mortimer, said, "World Lung Day takes place in the same week as the UN High-Level Meetings on TB and NCDs so it is a timely opportunity to raise awareness and advocate for lung health issues globally. Worldwide, around one in three people are infected with tuberculosis and 9 out of 10 people breathe polluted air. Asthma is the commonest chronic disease in children, and pneumonia is the one of the commonest causes of death in children under the age of 5, so there is an urgent need to address all of these issues facing the world's population."
World Lung Day was started last year by The Forum of International Respiratory Societies (FIRS). The goal of FIRS is to unify and enhance efforts to improve lung health through the combined work of its more than 70,000 members globally.
FIRS call for these essential actions to reduce the burden of respiratory disease and improve global health:
1.         Increase awareness among the public and policy makers that respiratory health is a major component of global health
2.         Reduce the use of all tobacco products through universal adoption of the Framework Convention on Tobacco Control
3.         Adopt World Health Organization air quality standards to reduce ambient, indoor, and occupational air pollution for all countries
4.         Promote universal access to quality health care, essential medicines, and immunisations
5.         Improve early diagnosis of respiratory diseases through increasing public awareness of lung health and disease
6.         Increase training of health professionals worldwide in respiratory disease
7.         Standardise the monitoring and management of respiratory diseases with evidence-based national and international strategies; and
8.         Increase research to prevent and treat respiratory diseases
 Dean Schraufnagel, MD, Executive Director of FIRS said "We hope World Lung Day will provide an opportunity for action, conversation, and awareness. A unified voice of all dedicated to respiratory health will be a powerful force."