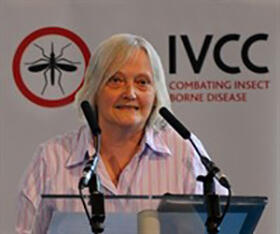 LSTM Director Janet Hemingway is stepping down as CEO of IVCC (The Innovative Vector Control Consortium) of which LSTM is a founding partner. After seven years effectively executing both positions simultaneously both LSTM and IVCC continue to grow.
 During those years Professor Hemingway acted as CEO, chief fund-raiser and as chief scientific officer in a number of areas within vector control. As IVCC expands its portfolio in vector control product development and broadens its funding base Professor Hemingway indicated to the Board of IVCC that she felt that the senior management team of IVCC needed to be strengthened by the appointment of a full-time CEO and she wished to concentrate  part-time  on helping to deliver future funding .
Professor Hemingway said: 'Clearly I need to steer the LSTM itself through a crucial period of ongoing expansion, especially now that the LSTM is facing unprecedented growth in research and teaching.' She continued: 'My standing down as CEO is not intended to signal an end to my involvement and interest in IVCC. Any future role will be in agreement with the new CEO, and I will be making time available to IVCC to ensure the smooth transition to new senior management.'
Following her decision IVCC is now recruiting for a new CEO. More details can be found here.