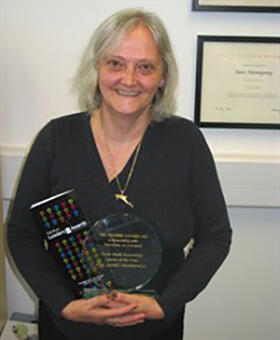 Professor Janet Hemingway CBE, was awarded the Paver Smith Knowledge Leader of the Year, at the inaugural Liverpool Post Leadership Awards, held in the Museum of Liverpool.  Prof Hemingway commented: '"I am delighted to receive this award which recognises the leadership role in infectious diseases research and treatment that the management of the Liverpool School of Tropical Medicine has locally, nationally and internationally."
The event, hosted by veteran TV presenter, Gordon Burns, marked the culmination of a major Liverpool Post project to identify the key leaders who play a pivotal role in the Liverpool city region.  Across a dozen categories, from business to culture, politics to sport,  250 outstanding leaders were nominated by Liverpool Post readers and from that list, a panel of judges selected the winners.  The Leaders 2012 magazine can be read here.
Judges included broadcaster and journalist Peter Sissons, Channel 4 founder Sir Jeremy Isaacs, Liverpool One project director Rod Holmes, head of the University of Liverpool Management School Murray Dalziel, and the university's Director of Partnerships and Innovation John Flamson.