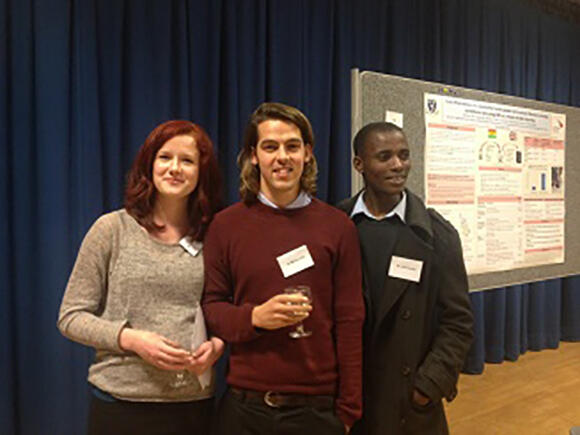 Recent graduates of LSTM have made a clean sweep of the Poster Presentation awards at this year's winter conference of the Royal Society of Tropical Medicine and Hygiene, taking first, second and third places.
The winners were part of a large number of graduates who had recently completed Masters degree at LSTM, and their poster presentations represented the work that they had carried out during their studies. The awards were presented during the one-day conference in London and were judged by a panel of experts.
Katherine Gleave took first prize, with her poster entitled: The Influence of Brugia malayo infection on the behaviour and longevity of Aedes aegypti, depicting the work that she had carried out looking in Malawi.
The second prize was awarded to Justin Kumala, who was able to study at LSTM after being awarded a Wellcome Trust Scholarship, for his poster about the work he carried out in Malawi entitled: The suitability of main vector control interventions (LLINs and IRS) in targeting the main vectors of malaria in Chikwawa District in southern Malawi.
The third prize went to Matthew Cliffe for his presentation: Cost effectiveness of a community health worker-led lymphatic filariasis morbidity surveillance tool using SMS as a means of data reporting in Malawi.
Dr James La Course, Director of Studies for laboratory based MSc's  said: "I am always incredibly proud of the students that study at LSTM, but I am delighted for this particular group, who have done so well in these awards. It reflects the levels of determination from each of them, including those that did not take an award on the day, along with their supervisors and other staff to ensure that they got the very best form their time at LSTM.  It is gratifying to see that they are able to use what they learnt to benefit not only themselves in their future careers, but also the field of tropical medicine."
To coincide with the conference MSc graduates Abagail Best and Matthew Cliffe were jointly awarded the Andrew Campbell Memorial Award, an LSTM award presented annually in memory of an MSc student who tragically died shortly after completing his studies in 1986. It is a £100 prize given to a student to help in the furtherance of their career in tropical medicine when they leave Liverpool. Abigail and Matthew used the money to travel to the conference and take part with a number of their ex classmates.