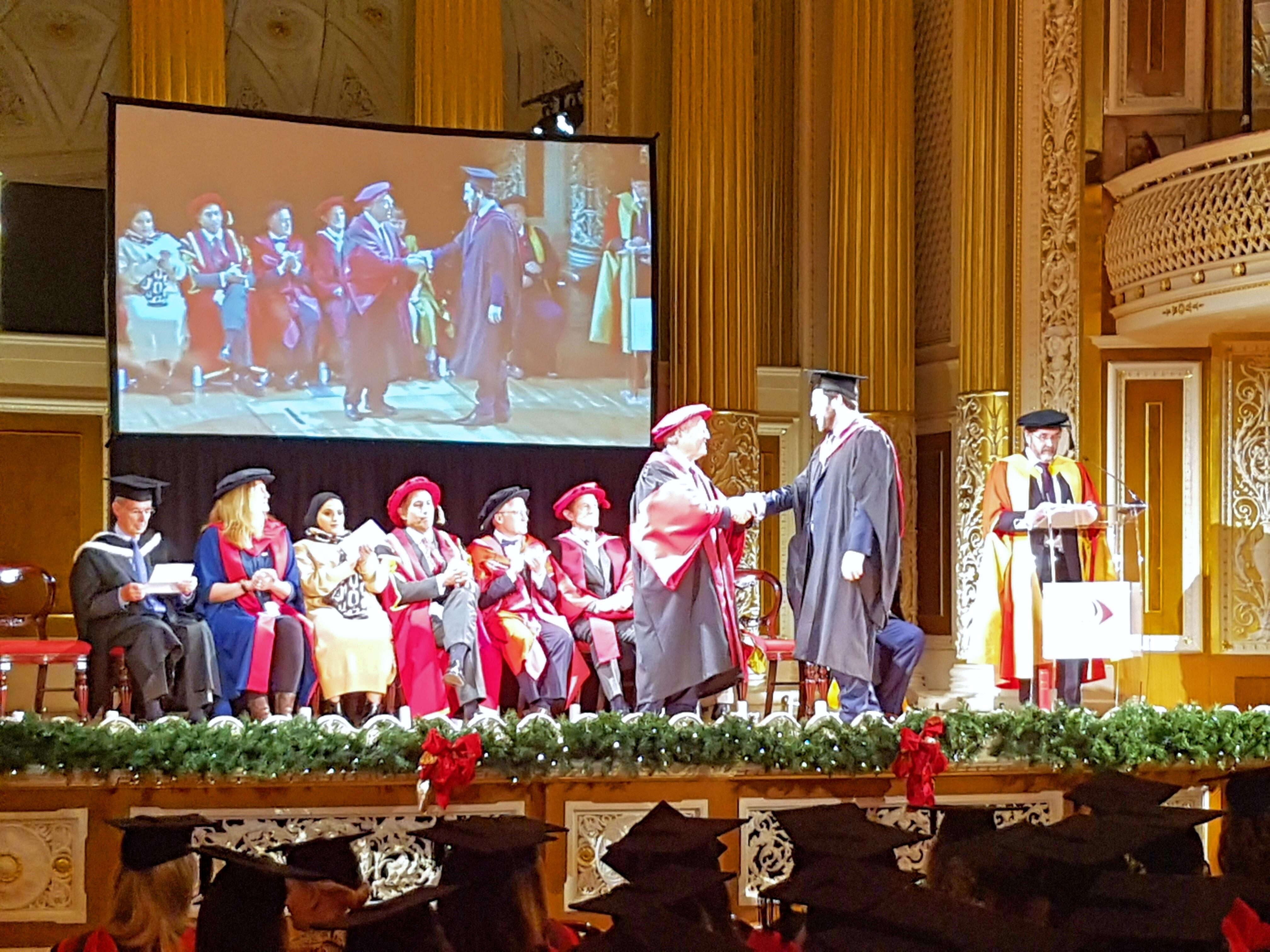 LSTM has held its annual graduation ceremony at Liverpool's magnificent St George's Hall – its second graduation since being awarded degree awarding powers in 2017.
The ceremony accounted for the graduation of 337 students with a total of 112 present to receive certificates for their Masters, PhDs and Professional Diplomas in the Hall's Concert Room.
LSTM's Director, Professor David Lalloo, said: "Congratulations to the class of 2019 – they have all done extremely well and are now positioned to make a positive impact in the field of research and global health. We have been training the future leaders in global health for over 120 years now and we are delighted to welcome these new graduates to become part of LSTM's community."As part of the ceremony LSTM conferred honorary Doctor of Science Degrees to emeritus Professor Malcolm Molyneux and alumna Professor Najla Al-Sonboli.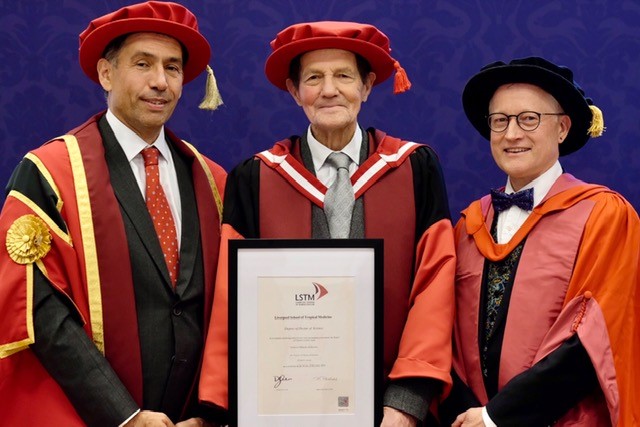 Professor Molyneux, described as a truly inspirational figure in the history of LSTM, was appointed as the founding director of the Malawi-Liverpool-Wellcome Trust (MLW) Clinical Research Programme in 1995 where he continued his life-long study of malaria. His research into the disease began when he joined LSTM as a Senior Lecturer in 1984 and while at MLW his research focussed on severe and fatal malaria at the new medical school's paediatrics department. 
At MLW he guided the development of a modest programme grant into a flagship overseas programme and inspired and mentored many clinicians and researchers putting collaboration at the heart of his research. On receiving his honorary degree, he said: "This is a wonderful day for me. Why am I prouder to be given an honorary degree from LSTM than I would be from any other institution in the world? It is because it stands for what is most important in the world – we are all brothers and sisters and need to recognise our common origin. Collaboration and partnership are what LSTM stands for and it is time for us to be a part of this world and not separate from it."
Professor Najla Al-Sonboli is a graduate of LSTM, undertaking a Masters in Tropical Paediatrics, a Diploma in Tropical Child Health and her PhD on paediatric health with Professor Luis Cuevas.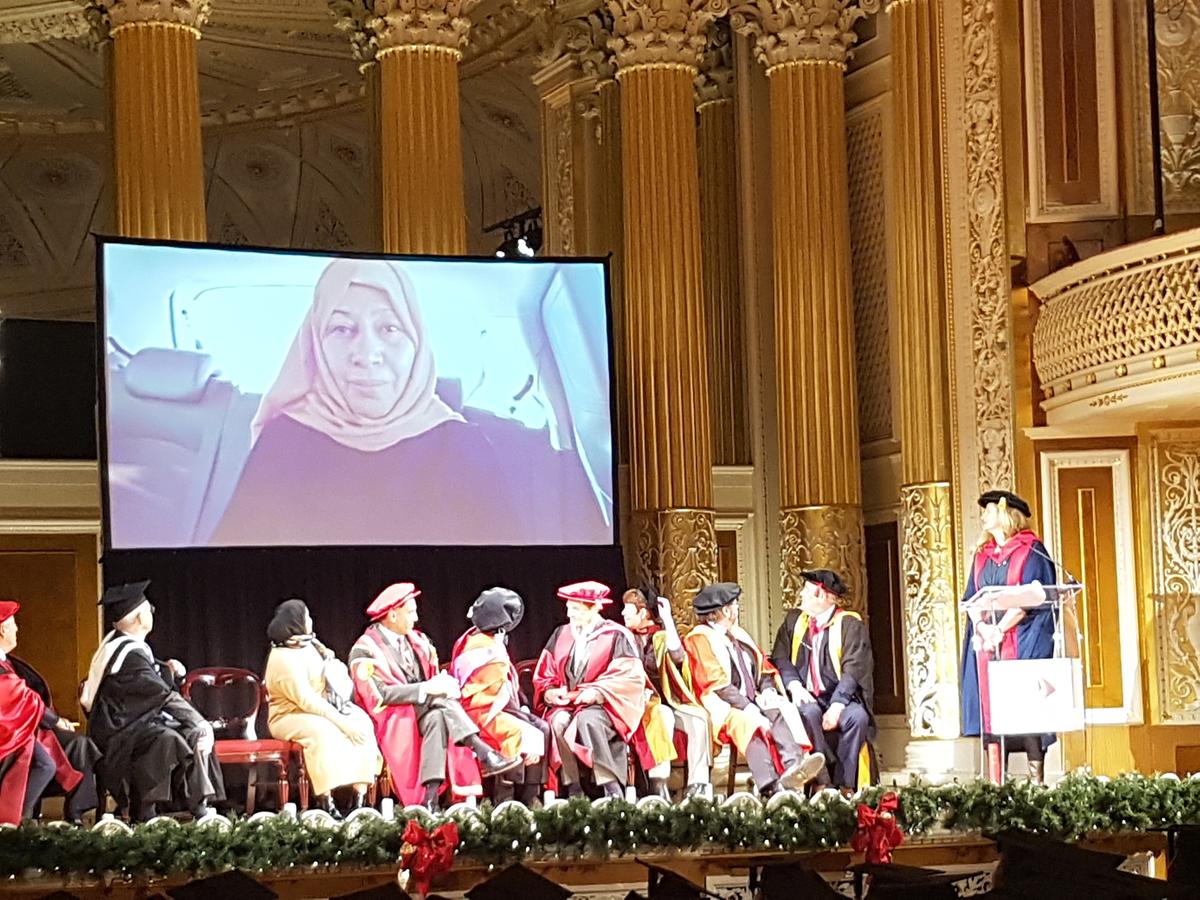 As head of the Department of Paediatrics at Sana'a University Al-Sabeen Hospital in Yemen, Professor Al-Sonboli and her colleagues have continued to treat children struggling under what the UN has declared the world's worst humanitarian crisis. 
As an inspirational leader, she has motivated her team to continue to work for the benefit of their young patients, providing voluntary services with minimal resources.
Unable to collect her award in person, Liverpool based Yemeni Poet Amina Atiq received it on her behalf, preparing a poem in her honour. In a video message from Yemen, Professor Al-Sonboli said: "I am just thinking of how I can express my happiness at receiving this honour as an alumnus of LSTM. I promise to keep the message and vision of LSTM up all of my life and I consider this certificate as my greatest responsibility."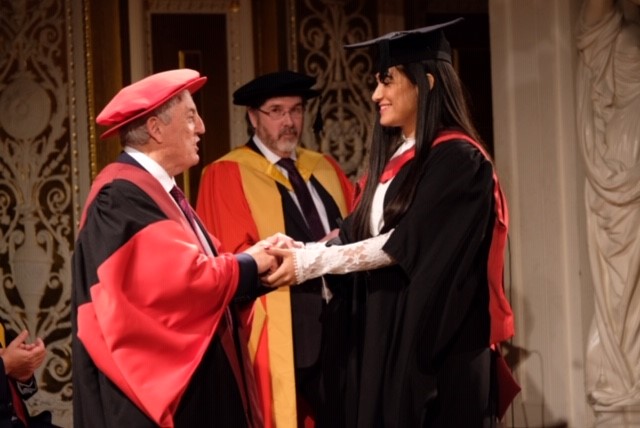 The proceedings were brought to a close by James Ross OBE, the chair of LSTM's board of trustees. He talked about the giants of LSTM's past, Mary Kingsley, Dr Alwyn Evans, and Sir Ronald Ross, as well as those receiving honorary degrees. He told graduates: "You have graduated from a great institution, the first of its kind in the world. Some of the global health challenges that you face are nearby, others further afield – but I trust that you will make a difference, just like the many LSTM giants who proceeded you. Congratulations!"
A total of 57 students graduated from LSTM having received scholarship support for their studies. If you would like more information about how you can support future global health leaders to study at LSTM click here.
A full recording of the 2019 ceremony can be found here (actual ceremony starts as of 11:55)