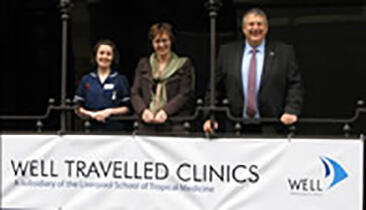 Well Travelled Clinics Ltd (WTC) opens its first travel clinic outside Liverpool in Chester city centre this week.
WTC, a business of the Liverpool School of Tropical Medicine (LSTM) already operates a busy clinic in Liverpool, adjacent to the world-renowned centre of excellence in tropical medicine.  The Chester clinic is the first in a series of planned expansions across the North West, bringing six new jobs to the city centre.
The clinic opens on 1 April on Watergate Row and offers a comprehensive 'one stop' pre-travel service for holidaymakers, students and business travellers planning to take a trip overseas, including travel health advice, vaccinations, malaria tablets and a wide range of travel accessories.
Philippa Tubb, Managing Director, explained:  "Exotic destinations are becoming increasingly affordable, with many travellers now taking advantage of last minute holiday deals on the internet.  Travellers need to remember when booking their holiday that they may need both vaccinations and anti-malaria tablets before they travel.  Our aim is to offer a comprehensive service that takes care of all the details for you, leaving you to look forward to your trip with confidence.
"By using our services, you are supporting the work we do to improve health in developing countries as our profits are reinvested back into WTC and LSTM to support the vital work we do to control diseases of poverty worldwide.
"Using our specialist knowledge, our travel clinic in Liverpool has helped hundreds of thousands of travellers stay well whilst abroad since we started pre-travel consultations in the 1960's.  Chester is an important hub in the North West and North Wales area and we felt that it provided the ideal location for our first clinic outside Liverpool.  There is a large market for our services beyond our present geographical reach hence we are delighted to be able to push ahead with our expansion plans.  That holds true despite the economic downturn as tropical destinations have become more attractive to cost-conscious holidaymakers concerned about the relative strength of the Euro.
"We are a local company committed to serving our population, improving public health and investing in the skills of our people.  We look forward to helping individual and corporate customers in Chester and throughout the North Wales and North West area stay healthy away from home," she added.
The clinic is located at 10 Watergate Row, above the Phase Eight shop, and from the beginning of April can be contacted on 0844 939 5600 or via the website at www.welltravelledclinics.co.uk 
-ends-
For further information, please contact:
Alan Hughes, Communications Manager
Office: +44 (0)151 705 3308
Mobile: +44 (0)7759 243969