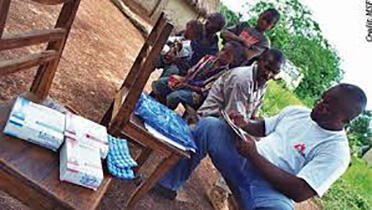 A recent publication by the Worldwide Antimalarial Resistance Network (WWARN) artesunate-amodiaquine (As-Aq) Study Group in BMC Medicine has demonstrated the real-life health impact of using weight-for-age growth distribution data to inform antimalarial dose development and regimen optimization
Apart from artemether-lumefantrine (LA), As-Aq is the most widely used antimalarial drug in Africa. It is the second-line drug to treat uncomplicated malaria in Malawi and many other East and Southern African countries, and the first line treatment in many West African countries.

In 2006 Dr. Anja Terlouw and Prof. Feiko ter Kuile from MLW and the Liverpool School of Tropical Medicine published a paper in which they predicted the optimal As-Aq tablet strength, drug-ratio and age-based dose regimen for fixed-dose combinations (FDC) for use in Africa. They based this on the predicted distribution of body weight across age of populations in Africa.
Their findings were scrutinized and adopted by Sanofi-Aventis in partnership with the Drugs for Neglected Diseases initiative (DNDi) to produce the now widely used FDC Coarsucam®/ASAQ Winthrop® product. The product obtained WHO prequalification in October 2008 and since then over 350 million ASAQ treatments have been distributed. 
The recent WWARN publication analysed As-Aq efficacy and safety data from 43 studies and 9,106 treatments conducted between 1999-2012 with dosing based on age or body weight. Findings showed how the FDC combination achieved better dosing accuracy and higher antimalarial treatment efficacy in all age categories, compared to the As-Aq products of loose artesunate and amodiaquine tablets.
WWARN credited the improved FDC treatment outcomes to the fact that the dose regimen and tablet strengths were developed with the novel LSTM growth-reference method. This resulted in increased dosing accuracy, and the availability of different tablet strengths, including two pediatric tablets.
This avoids the need for tablet splitting and reduces the pill burden, likely improving patient adherence to the right dose.
Following the success of the Sanofi product, 4 other major drug companies have since adopted the same ASAQ tablet strengths and dose regimen and achieved WHO prequalification status with those FDC ASAQ products.
As WHO prequalification status is used as quality assurance by control programs to buy their national antimalarial stocks, this means that almost 10 years after the original research work conducted by MLW and LSTM, most of the children and adults treated with As-Aq products in Africa now benefit from improved treatment outcomes.