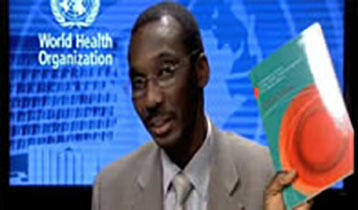 The World Health Organization (WHO), in consultation with the government of the United Kingdom, has designated the Liverpool School of Tropical Medicine (LSTM) as a WHO Collaborating Centre for Evidence Synthesis for Infectious and Tropical Diseases.
"This designation firmly establishes LSTM as a reference centre for WHO in bringing together the best available research evidence on infectious tropical diseases," said Dr Hans Hogerzeil, Director of Essential medicines and pharmaceutical policies at WHO.  "LSTM has made valuable contributions on the WHO Model List of Essential medicines and the recently released malaria treatment guidelines. We look forward to our continued collaboration as we work towards better quality, safety, and use of medicines."
LSTM will support WHO in developing recommendations for health care policy, developing guidelines for the management of infectious diseases, organizing training in research methods and assisting in the communication of research results to policy makers, clinicians, teachers and the public in developing countries.
LSTM's Professor Paul Garner, Head of the new Centre, said: "We are really delighted to have been designated a WHO Collaborating Centre. This will allow us to build on our existing work with WHO – part of which is to provide top quality health evidence to assist with work in developing countries and to contribute towards achieving the Millennium Development Goals."
The designation builds on an extensive work programme already in existence, through the Cochrane Infectious Diseases Group, an international network of 200 people co-ordinated from LSTM.
Already a WHO Collaborating Centre for the Prevention of Deafness and Hearing Impairment, LSTM is among 800 premier institutions from over 80 countries currently supporting WHO on a regional, country and global level. WHO Collaborating Centres also provide information, services, research and training to strengthen developments in national health services.
-ends- 
For further information, please contact:
| | |
| --- | --- |
| Alan Hughes, Communications Manager | Liz Finney, Communications Officer |
| LSTM | World Health Organisation |
| Office: +44 (0)151 705 3308 | Office: +41 22 791 1866 |
Notes to Editors
The Liverpool School of Tropical Medicine (LSTM) has been engaged in the fight against infectious, debilitating and disabling diseases for more than a hundred years and continues that tradition today with a research portfolio in excess of £145 million and a teaching programme attracting students from over 70 countries.
WHO is the directing and coordinating authority for health within the United Nations system. It is responsible for providing leadership on global health matters, shaping the health research agenda, setting norms and standards, articulating evidence-based policy options, providing technical support to countries and monitoring and assessing health trends.
The Essential Medicines and Pharmaceutical Policies department's vision is that people everywhere have access to the essential medicines they need; that the medicines are safe, effective and of assured quality; and that they are prescribed and used rationally.  For further information about WHO Collaborating Centres, please visitwww.who.int/collaboratingcentres/en/