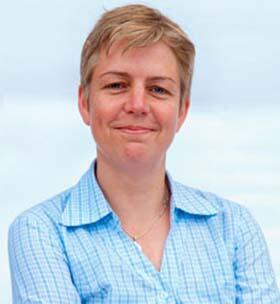 The Royal Society, the UK's national academy of science, has announced the appointment of a host of new Royal Society Wolfson Research Merit Award holders, including LSTM's Professor Hilary Ranson. Professor Ranson's research to develop and evaluate new control tools including bed nets and sprays for use indoors to kill mosquitoes that carry malaria, is of increasing relevance to many low-resource countries. An area of research that UK science has an important role in leading.
"I am delighted to receive such a prestigious award which will be a great boost to our work at LSTM on finding long term solutions for the challenges currently facing malaria control in Africa," said Professor Ranson upon hearing news of the award.
Among the challenges facing modern malaria control, the development of resistance to insecticides by Anopheles mosquitoes in more than 60 countries worldwide, is one of the most worrisome. If the outstanding effectiveness of current interventions is to be maintained there is a pressing need for the development of new control tools, especially new insecticides, to meet and ultimately overcome this challenge.
Professor Ranson is rapidly becoming a leading international scientist this field, leading one of the foremost international departments in insect vector biology, genomics and control. Contributing to policy development through positions on advisory panels and expert committees including the World Health Organisation.
The AvecNet project led by Professor Ranson is significantly contributing to addressing this need over the coming years. It is to her credit that she has brought together 16 institutions from across Africa and Europe, allowing scientists to collaborate to improve national malaria control programmes. Professor Ranson said "AvecNet is delivering practical solutions for the challenges facing malaria vector control by working in partnership with national malaria control programmes, policy makers and drivers of the global malaria research agenda."
Jointly funded by the Wolfson Foundation and the Department for Business, Innovation and Skills (BIS), the scheme aims to provide universities with additional support to enable them to attract science talent from overseas and retain respected UK scientists of outstanding achievement and potential.
Further details of the Royal Society Wolfson Research Merit Award including a full list of recipients can be found on the Royal Society website. 
For further information concerning LSTM and Professor Ranson contact:
Mr Diderik van Halsema
Director of Communications
Liverpool School of Tropical Medicine
Office: +44 (0)151 705 3104
Mobile: +44 (0)7960 867337
Email: dvh@liv.ac.uk
For further information concerning the Merit Awards contact:
Chloe McIvor
Press and Public Relations
The Royal Society, London
Tel: 020 7451 2514
E-mail: chloe.mcivor@royalsociety.org