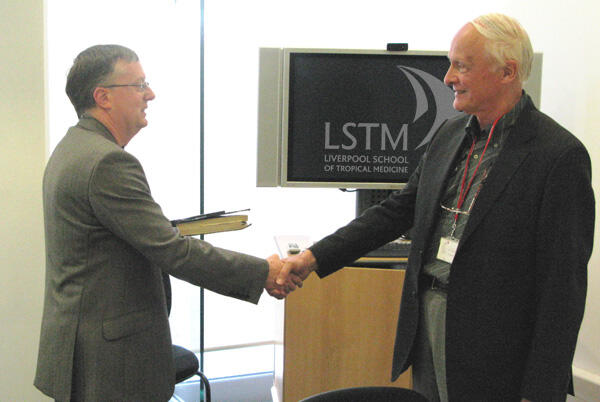 Professor Brian Maegraith (1907-1989), was former Dean of LSTM (1946-1975) and shaped the direction of tropical medicine in the latter half of the 20th century.
Professor Maegraith's son Michael Maegraith, Michael's wife Helga Maegraith and daughters Janine Maegraith and Birgitta visited LSTM on 16th April 2012, to formally handover Professor Maegraith's diaries to complete the Maegraith Archive. The series of diaries kept by Professor Maegraith during his career provide a remarkable insight into the world of tropical medicine in the second half of the 20th century.
Acting Director Professor Alister Craig accepted the diaries on behalf of LSTM during the visit which was attended by current and former staff including Emeritus Professor David Molyneux, who was appointed by Professor Maegraith in 1968. The Archive has been deposited with LSTM by the Maegraith family and subject to funding will be developed to present the material to an international audience.
More information about the Maegraith Archive will appear on LSTM's website as things develop 
Any enquiries concerning the archive should be directed to library@lstmed.ac.uk