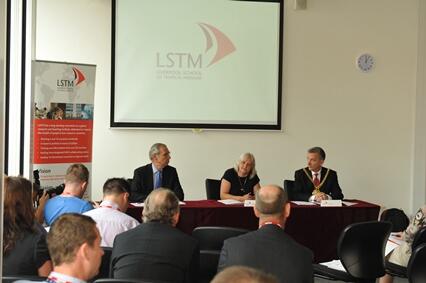 New status will support LSTM's continuous growth as a leading centre in Tropical Medicine and Global Health
Liverpool, 24 July 2013 – The Secretary of State for Business, Innovation and Skills (BIS) has, by an Order in Parliament under section 129 of the Education Reform Act 1988, designated the Liverpool School of Tropical Medicine (LSTM) as a higher education institution (HEI) eligible to receive funding direct from the Higher Education Funding Council for England (HEFCE).
Professor Janet Hemingway CBE, Director of LSTM, said: "We are delighted that LSTM, which has always been an independent institution, is now recognised as an HEI in its own right. Amongst many practical benefits it will improve our profile nationally and internationally and support our ambitions for continued growth and expansion."
Universities and Science Minister David Willetts said: "This announcement is another step towards creating a diverse and vibrant higher education sector. I congratulate Liverpool School of Tropical Medicine on this important achievement which will allow them to expand and build on their already excellent reputation globally."
The new status makes LSTM eligible to receive direct support from funds administered by HEFCE. Over many years LSTM has collaborated closely with the University of Liverpool to ensure it was adhering to government regulations. However, over time, the lack of formal HEI recognition disadvantaged LSTM, restricting access to research and capital funding and forcing it to operate different rules for overseas students.
LSTM started the application process 18 months ago, in close collaboration and consultation with the University of Liverpool. Its Vice-Chancellor, Professor Sir Howard Newby, said that "LSTM's new status as an independent HEI recognises their world-class research in tackling some of our most challenging health problems. It will help build on Liverpool's reputation as a hub for knowledge and expertise in infectious disease. Together with the University's Institute of Infection and Global Health, we can make a significant contribution to the health and wellbeing of millions of people and we are proud to continue to partner with LSTM in this important area of research."
Chair of LSTM's Board of Trustees, Mr James Ross OBE, added: "This is a great moment in LSTM's long history. It recognises our scientific achievements to date and greatly enhances the realisation of our future plans such as the creation of the Centre of Maternal and Newborn Health and our ongoing application to be granted Degree Awarding Powers."
LSTM's designation Order came into force on 19 July 2013.
For further information, please contact:
Mr Diderik van Halsema
Director of Communications
Liverpool School of Tropical Medicine
Office: +44 (0)151 705 3104
Mobile: +44 (0)7960 867337
Email: dvh@liv.ac.uk