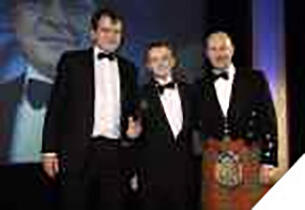 Mr Dougal Freeman, Financial Director of LATH (Liverpool Associates in Tropical Health) has won the prestigious International Charitable Development Award from the Chartered Institute of Management Accountants (CIMA). 
The award goes to the CIMA member who has used his or her professional skills to make the greatest contribution to international development or humanitarian relief, maximising the often limited resources that are available in this field. It was one of a number honouring members of the profession at the 2005 CIMA Financial Management Awards, in association with the Financial Times. 
Mr Freeman has been taken on by LATH, the subsidiary company and consultancy arm of the the world famous Liverpool School of Tropical Medicine, to review and restructure information systems. His citation for the award praised him for his "flexibility and competence in making cost reductions, with the potential for significant savings that allow groundbreaking work in the treatment of tropical medicine and international health to continue to the benefit of millions of people worldwide."
Mr Freeman was in a shortlist of three out of 66 nominations. John McCullough, Managing Director of LATH said: "Dougal¹s award is not only recognition of his individual excellence, professionalism and commitment to development but of course a great reflection on LATH and the Liverpool School of Tropical Medicine."
(Issued by Eileen Taylor, Press Officer, 01704-876024/0778 66 13604)
6.12.05