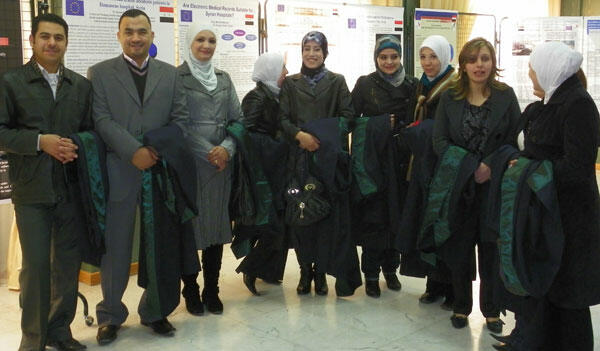 The second cohort of Masters students graduated from the Centre for Strategic Health Studies (CSHS) yesterday.  The Centre was established in 2006 with technical assistance provided by a team from LSTM led by Dr Amir Hassan.
The students were awarded degrees in Public Health, Health Systems Management, Health Systems Management with a specialisation in Hospital Management and Health Economics.  In addition, the Centre will issue 18 Diplomas in Health Care Management for Nurses.  This ceremony will be followed in March 2011 by the graduation of the third cohort of Masters, bringing the total to more than one hundred.
The ceremony was attended by the Syrian Minister of Health and representatives from the Ministry, along with the European Union and United Kingdom ambassadors, representatives from higher education institutions, the World Health Organization and other United Nations institutions and LSTM, who provided the technical assistance to the Ministry of Health to establish the Centre.
The Director of the CSHS, Dr Reem Akras, praised the work of those involved, commenting that: "graduating our second cohort of internationally trained students is a major achievement and will prove beneficial to the health and well being of every Syrian citizen.  This remarkable achievement has been made possible by the hard work and commitment from the Minister of Health, the Centre staff, the European Union and LSTM."
Professor Janet Hemingway, Director of LSTM, acknowledged this achievement by stating that "the quality and quantity of students graduating from the Centre is staggering. We do not know of any other centre of this kind which has produced so many high quality professionals in the initial three years of training. We wholeheartedly congratulate the Centre." 
The CSHS is funded by the European Union as part of the Health Sector Modernisation Programme for Syria and technical assistance is provided by an LSTM team led by Dr Amir Hassan. 
-ends-
For further information, please contact:
Alan Hughes, Communications Manager
Office: +44 (0)151 705 3308 
Notes to Editors
LSTM
The Liverpool School of Tropical Medicine (LSTM) has been engaged in the fight against infectious, debilitating and disabling diseases for more than a hundred years and continues that tradition today with a research portfolio in excess of £159 million and a teaching programme attracting students from over 60 countries.