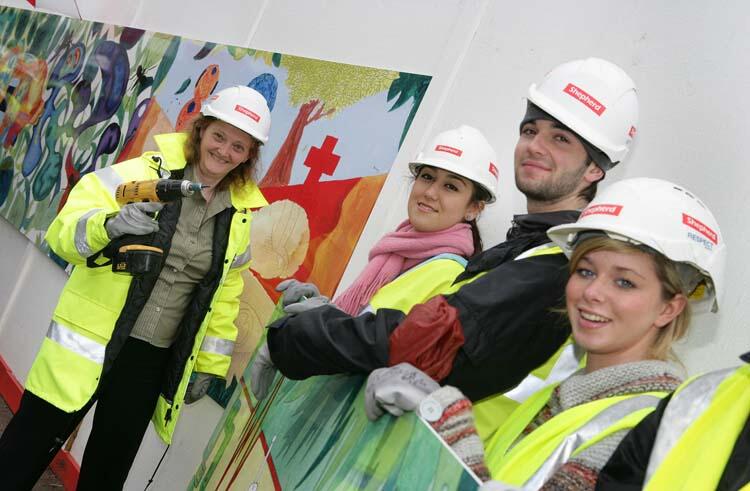 The construction site for the Liverpool School of Tropical Medicine's new £23 million research centre became a showcase for artistic talent today. Colourful interpretations of tropical health research produced by art students from Liverpool Community College have been installed onto the hoarding surrounding the site on the corner of London Road and Great Newton Street .
Work began last month on the foundations for the new Centre for Tropical and Infectious Diseases, which will be home to ground-breaking research for new drugs, vaccines and pesticides to tackle some of the world's deadliest tropical diseases and the insects which carry them.
Janet Hemingway, Director of the School said: "This is a great way of getting people thinking about the importance of the work that will be undertaken here and will give everyone something to look at until the new Centre is completed next year. The Centre is an integral part of our exciting plans to double the size of the School over the next five years and will further strengthen the School's unique ability to initiate, validate and trial new drugs, vaccines and insecticides for current and emerging infectious diseases."
The building contractor for the scheme, Shepherd Construction, commissioned the artwork as part of their policy of involving local communities in major projects. Gail Gillatt, Marketing Manager, explained: "Working alongside the communities where we build is very important to us. This is the third project we have undertaken with students at Liverpool Community College and we are really looking forward to seeing the hoardings on the site for the new centre 'come to life' with their artwork. We hope that we have given the students some valuable hands-on experience of working in industry."
Liverpool Community College tutor, Paul Gatenby,said " "This has been a great project for us and we're delighted to be continuing our partnership with Shepherd. The students have been given a chance to experience working at a professional level and they have responded with great enthusiasm and creativity. It's a terrific showcase for the college to have work on public display and in association with such a renowned Institution as the Liverpool School of Tropical Medicine. Many thanks to all concerned"
The centre, expected to be completed in September 2007, has been partly financed by the Northwest Regional Development Agency and the European Regional Development Fund, who have both invested £9 million each. The School has recently been awarded grants totalling $50 million by the Bill and Melinda Gates Foundation and £10 million by the European Commission for malaria related research. 
For further information, please contact
Alan Hughes, Communications Manager
Office: 0151 705 3268
Mobile : 07759 243969