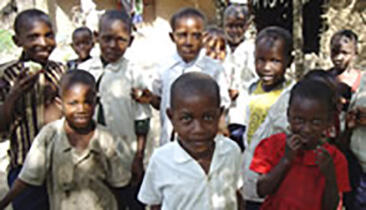 Targeting mosquito larval populations may be an effective intervention to help control malaria in urban situations, a study supported by a team of researchers from the Liverpool School of Tropical Medicine (LSTM) suggests.
In the study published this week in the open access journal PLoS One, an implementation team led by the city council of Dar es Salaam, Tanzania and a supporting team of researchers led by LSTM Senior Lecturer and Wellcome Trust Research Career Development Fellow Dr Gerry Killeen, found that the use of larvicides – insecticides which kill mosquitoes in their water-borne larval stages of development – to complement existing interventions appeared to have a dramatic effect in reducing malaria risk in the pilot areas.
Dr Killeen and his colleagues from the Ifakara Health Institute in Tanzania, as well as Durham University, Harvard University, Swiss Tropical Institute and LSTM found that the pilot programme achieved a 72% reduction in the prevalence of malaria infection among young children.  This dramatic reduction also proved to be highly cost-effective: an annual cost of less than US$1 per person protected, compared to US$2 per year of use of an Insecticide Treated Net (ITN), typically by more than one person.
The research has re-opened the debate on whether malaria can be controlled with larvicides.  Dr Killeen, who is based at the Ifakara Health Institute in Tanzania, commented: "Malaria control programmes have traditionally focused on rural areas, where the disease is more prevalent.  However, it's becoming clear that malaria also poses a problem in towns or cities, where we expect over half of the African population to live by 2030.  In fact, it is likely that malaria is easier to control and even eliminate in these areas."
Malaria is one of the world's deadliest diseases, killing over one million people each year, mainly young children in Africa.  It is caused by the malaria parasite, which is transmitted through the bites of infected female mosquitoes.  Governments and NGOs worldwide are making a concerted effort to tackle malaria and a number of interventions exist to control its spread, including the use of ITNs, sprays and repellents.  However, most interventions target adult mosquitoes, which can carry the parasite.
Larvicides were used in the early twentieth century, but the successful introduction of the pesticide DDT to kill adult mosquitoes meant that larvicides fell out of favour. Nowadays, larvicides are available which kill only mosquito larvae, are biological in nature, environmentally friendly and are safe to apply even to drinking water. These products have been used for decades in mosquito programmes all across the northern hemisphere but their use for malaria prevention had been constrained by concerns over how sustainable and cost-effective they would be in the poorest countries of Africa.
Tanzania has emphasised the widespread use of ITNs as its highest priority for controlling malaria, but recent observations suggest that in urban areas such as Dar es Salaam, mosquitoes tend to bite outdoors, making the nets slightly less effective as a control strategy than in rural areas.
In 2003, the Dar es Salaam City Council established a new Urban Malaria Control Programme which spent 3 years developing new, sustainable and affordable systems for applying microbial larvicides by mobilizing community-based teams of operators.  In the pilot study to evaluate this approach, three wards of the city, covering an area of 17km2 and 128,000 inhabitants, were treated with the microbial larvicide Bacillus thuringiensis var. israelensis (Bti) over a one year period.
The study supports ongoing research in the densely populated rural highlands of western Kenya, which also showed the effectiveness of using larvicide application as a malaria prevention measure. However, the researchers stress that larvicide is not intended to replace ITNs and other interventions, but rather should be a complementary approach.
"There is no evidence that using larvicide is a substitute for the current front-line interventions," says lead author Dr Yvonne Geissbühler from the Swiss Tropical Institute, Switzerland. "ITNs and indoor residual spraying are, and should remain, the highest priority, but using larvicide may offer a supplementary means to control or even eliminate malaria."
The programme in Dar es Salaam has already been extended to protect over 600,000 people, with lessons learned during this pilot study being translated into major improvements in the delivery system to reduce costs and improve performance. Furthermore, expansion to eventually cover the entire city is being considered at the stakeholders meeting of the US President's Malaria Initiative held in Tanzania this week and the National Malaria Control Programme has now set itself the target of setting up such programmes in five cities by 2013.
The study was supported by the Bill & Melinda Gates Foundation, Valent Biosciences Corporation, Research Triangle International, US Centers for Disease Control and Prevention and US Agency for International Development and the Wellcome Trust. 
-ends-
For further information, please contact:
Alan Hughes, Communications Manager
Office: +44 (0)151 705 3308
Mobile: +44 (0)7759 243969
Notes for editors
Geissbühler, Y. et al. Microbial Larvicide Application by a Large-Scale, Community-Based Program Reduces Malaria Infection Prevalence in Urban Dar Es Salaam, Tanzania. PLoS One, published 31 March 2009.
An embargoed press preview copy can be downloaded at URL.
Ifakara Health Institute (Tanzania) 
IHI is a not-for-profit trust registered in Tanzania dealing with health research and assisting the implementation of national health development and science and technology policies. The mission of IHI is to develop and sustain a district-based health research and resource centre capable of generating new knowledge and relevant information for public health policy and actions. 
Liverpool School of Tropical Medicine (UK) As a centre of excellence, Liverpool School of Tropical Medicine, through the creation of effective links with governments, organisations and institutions and by responding to the health needs of communities, aims to promote improved health, particularly for people of the less developed countries in the tropics and sub-tropics by: 1) providing and promoting high quality education and training, 2) conducting first-class research and disseminating the result of that research, 3) developing systems and technologies for health care and assisting in their transfer and management and 4) providing appropriate consultancy services; in fulfilling this mission also provides a clinical service of acknowledged excellence.
The City Medical Office of Health at the Dar es Salaam City Council oversees all clinical and public health services provided to the citizens of the largest city in Tanzania. The Dar es Salaam City Council has a track record in health sector reform as exemplified by the Urban Health Project, upon which this latest programme to deliver effective mosquito control as a routine municipal service now builds.
The Swiss Tropical Institute was founded in 1943 and is a public, not-for-profit institution and an associate institute of the University of Basel, Switzerland. The mandate of the STI is to contribute to health development at the local, national and international level through research, teaching & training and services. Tanzania is one of the key countries STI has maintained research partnerships, health development and capacity building support since 1949. The creation of IHI is a result of this long-term partnership. 
Harvard School of Public Health (US) – From advancing scientific discovery to training national and international leaders, the Harvard School of Public Health has been at the forefront of efforts to benefit the health of populations worldwide. Its overarching mission is to advance the public's health through learning, discovery, and communication by (i) providing the highest level of education to public health scientists, practitioners, and leaders; (ii) fostering new discoveries leading to improved health for the people of this country and all nations; (iii) strengthening health capacities and services for communities, and (iv) informing policy debate, disseminate health information, and increase awareness of public health as a public good and fundamental right. 
Bill & Melinda Gates Foundation – Guided by the belief that every life has equal value, the Bill & Melinda Gates Foundation works to help all people lead healthy, productive lives. In developing countries, it focuses on improving people's health and giving them the chance to lift themselves out of hunger and extreme poverty. In the United States, it seeks to ensure that all people—especially those with the fewest resources—have access to the opportunities they need to succeed in school and life. Based in Seattle, the foundation is led by CEO Jeff Raikes and Co-chair William H. Gates Sr., under the direction of Bill and Melinda Gates and Warren Buffett.
http://www.gatesfoundation.org
The President's Malaria Initiative represents an historic five-year expansion of U.S. Government resources to fight malaria in the region most affected by the disease. An additional $1.2 billion in malaria funding was committed to this Initiative with the goal of reducing malaria-related deaths by 50 percent in 15 focus countries.  PMI collaborates with countries to build surveillance capacity and adapt strategies to fit the local context. 
RTI International is one of the world's leading research institutes, dedicated to improving the human condition by turning knowledge into practice.  Our more than 4200 professionals provide research and technical services to governments and businesses in more than 40 countries in the areas of health and pharmaceuticals, education and training, surveys and statistics, advanced technology, international development, economic and social policy, energy, and the environment. 
US Agency for International Development
US Centers for Disease Control and Prevention
Valent Biosciences Corporation
The Wellcome Trust is the largest charity in the UK. It funds innovative biomedical research, in the UK and internationally, spending over £600 million each year to support the brightest scientists with the best ideas. The Wellcome Trust supports public debate about biomedical research and its impact on health and wellbeing.